The states of the east coast of Peninsular Malaysia and the west of Sarawak such as Kelantan, Terengganu, Pahang, East Johor and Sarawak will receive heavy rainfall from November to March each year at risk of flooding. Usually, many property damage occurs after floods such as furniture, home electrical appliances and so on are badly damaged and can no longer be used. In fact, floods also cause many cars and motorcycles to be submerged. If your vehicle is covered by flood car insurance, this guide may help you reduce the risk of damage and help you claim flood cars.
Flooded Car: What Should You Do to Minimize Losses?
If you live in areas at risk for water or exposed to flash flood risk, you can practice the following steps if your vehicle is flooded to help minimize losses and reduce your car repair costs.
1. Save Photo Evidence, Contact Car Insurance
The first thing you need to do is contact your insurance company to notify the flood car incident. Some insurance companies offer flood protection in the comprehensive protection policy offered. In addition, keep photographic evidence to facilitate the process of flood insurance claims.
2. Identify Flood Water Levels
When the flood starts to recede and the situation is safe, the first thing you need to do is check the level or depth of the flood water that drown your car. Usually, flood water will leave a mud or blanket on the inside or external cars such as cushions, car roofs, dashboards and so on. It can help insurance companies to assess the level of damage based on the water level that drowns your car.
3. Don't Start Car Engine
If your car is completely submerged during the flood, never turn on your car engine. This is because, it has the potential to cause shortcuts that can cause more serious damage and in some cases, it may endanger your life. Usually, the components of the car that drowned in the flood are at risk for damaged. All you can do is unplug a car battery or use a tow truck service to bring your car directly to the workshop or call the mechanic home to check your car.
4. Check the Engine or Gearbox of the Car
After arriving at the workshop, check your car or gearbox first. Check engine oil level or gear oil using dipstick – if the amount of black oil or gear oil exceeds the amount, this means your car engine is already watered. It is advisable to do flushing with a repeat of three (3) to five (5) times depending on your mechanical advice. Engine oil and gear oil mixed with water should be removed and replaced with new oils to reduce the risk of damage to the engine.
5. Dry the Car Components
When the car is flooded with flood water, the car's interior must also be affected. Any components of removable cars such as radio and so on can be removed for cleaning and drying. You can also wash cars with water spray especially on difficult areas such as engines, tires and car brakes. However, avoid performing water spray directly towards the air filter hole and lubricant lid as it can potentially damage this component. Also, clean any dirt or mud on the car cushion – make sure it is completely dry to prevent the cushion from smelling.
6. Flush Petrol Engine (If Necessary)
The low position of the car oil tank also allows the flood water to enter the tank space. If you find that there is a possibility of flooding water entering the oil tank, remove a mixed petrol with water to prevent more serious engine damage. If necessary, seek advice from your mechanic for more certainty.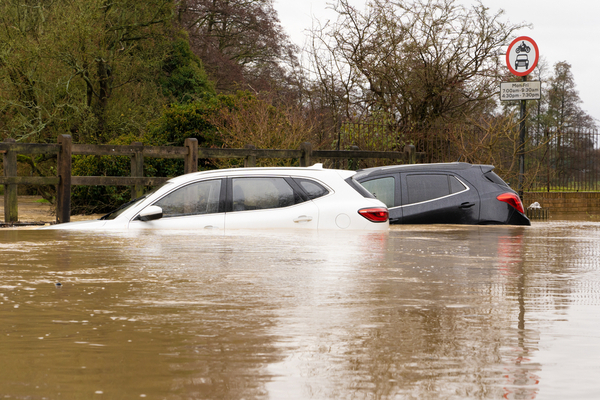 Car Insurance: Additional Protection of Natural Perils 'Special Perils'
Comprehensive insurance coverage is one of the insurance policies that most car owners choose in Malaysia. It includes damage or loss of vehicle due to theft or fire, damage caused by accidents, deaths or injuries to others and damage to the property of others. In addition to this protection, there is additional protection known as special perils protection in the event of vehicle damage due to natural disasters such as floods, hurricanes, fallen trees due to thunderstorms, landslides and other related.
This natural disaster protection can be added as you renew a car insurance for an additional fee of about RM50 to RM200 a year depending on your car insurance policy. You can refer to your car insurance agent for more info.
Car Insurance: 6 Ways to Claim Car Flood Insurance
If your car is protected by additional natural disaster protection, here is a way to make car flood insurance claims to facilitate your business.
1. Contact the Insurance Company
If you are facing a flood drowning car situation, you need to notify the incident to your insurance. If necessary, get the help of a tow truck service to take your car to a nearby workshop. You are not encouraged to turn on your car engine if the car enters the flood as it may pose a more serious risk of damage.
Insurance Companies Malaysia
Details
Zurich Insurance
📞 1-3000-88-6222 | +603-2109-7999
📧 callcenter@zurich.com.my
⏰ Isnin – Jumaat, 8.30 pagi – 5.15 petang
Tune Protect
📞 1-800-228-863
📧 hello.my@tuneprotect.com
⏰ 24 jam
AXA Insurance
📞 +603-2170-8282
📧 claims@axa.com.my
⏰ Isnin – Jumaat, 8.30 pagi – 5.15 petang
Takaful Malaysia
📞 1-3000-88-252-385
📧 csu@takaful-malaysia.com.my
⏰ 24 jam
Takaful Ikhlas Malaysia
📞 1-800-88-1186
📧 ikhlascare@takaful-malaysia.com.my
⏰ 24 jam
2. Collect Relevant Evidence
In addition, you also need to collect relevant evidence to simplify the claim process. Most insurance companies require supporting documents and relevant evidence in car insurance claims as follows:
Record the location, time and date of the flood incident;
Take a picture of the flood car damage;
Provide copies of driver's license, identity card, car grant and insurance policy (or cover note) for reference;
Details or other supporting documents (if necessary).
3. Make a police report
If the situation permits, you will need to make a police report as soon as possible. A police report should be made within 24 hours after the incident. However, a police report is still received after 24 hours if you have a reasonable reason.
4. Submit a Claim Form
If all the necessary documents and evidence are complete, submit a claim form to your insurance agent or car insurance company. Usually, the insurance will notify the period required by them to process your claim.
5. Send the Car to the Workshop
When you're done, send your car to the car insurance panel workshop near you. You can refer the insurance to get a complete list of car insurance panels that can manage your car.
Hopefully this partnership can help you if you are facing a flooded car situation. Shared measures are expected to help at least reduce the risk of damage and reduce the cost of repairs that need to be borne. You are also advised to review your insurance policy to ensure that your car is especially insured against the flood. In fact, you are also advised to consider the additional protection of natural disasters in preparation for future help to help you better cope with this kind of disaster. If you are considering getting comprehensive car insurance including natural disaster protection such as floods, visit the Qoala website, the best insurance platform in Malaysia for more info.