Apart from homes being flooded, natural disasters such as floods can also cause many motorcycles and cars to be submerged. Therefore, it is important for you to have special perils car insurance to reduce the risk of loss and minimize the cost of repairing flooded cars. In addition, it also allows you to make a claim for flood car insurance as basic car insurance is insufficient and does not cover damage caused by natural disasters.
You Need to Do These 7 Important Things If Your Car Is Flooded
If you live in a flood-prone area or are at risk of flash floods, it's important to know what to do if your car gets flooded. Taking the right steps can help minimize losses and prevent further damage.
1. Identify the Floodwater Level
After the flood subsides and the situation returns to safety, the first thing you should do is check the level or depth of the floodwater. Typically, floodwater will leave mud or sludge marks on the interior or exterior of the car such as on the seats, car roof, dashboard, and so on. This will allow insurance companies to assess the level of damage based on the water level that submerged your car.
2. Don't Start the Car Engine
If your car is fully submerged during a flood, never attempt to start the engine. This can potentially cause a short circuit, leading to more serious damage. In some cases, it can even be life-threatening.
Components of a flood-damaged car are at risk of being damaged. What you can do is remove the car battery or use a tow truck service to take your flooded car directly to a workshop. If necessary, call a mechanic to inspect your car at home.
3. Contact Your Insurance Company
The next important thing you need to do is to contact your insurance company to report the car damage incident due to the flood. If necessary, ask for a tow truck to move the car if it is fully submerged. Do not try to start the engine or drive the car yourself to the workshop as it may risk causing more serious damage.
4. Collect Evidence
It is important to keep photographic evidence to facilitate the flood insurance claims process. Insurance companies typically require the following details or documents to process your flood insurance claim:
Record of the location and time/date the car was flooded;
Take pictures of the flood-damaged car;
Copy of the owner's driving license;
Copy of the owner's identification card;
Copy of the car grant certificate;
Copy of the insurance policy;
Supporting details/documents explaining the car's damage (if any).
5. Check the Car's Engine or Gearbox
Once you arrive at the workshop, check the engine or gearbox of your car first. Check the engine oil level or gear oil level using the dipstick. If the amount of black oil or gear oil exceeds the proper amount, this means that water has entered the engine.
You are advised to perform flushing with three to five repetitions depending on your mechanic's advice. Engine oil and gear oil that have mixed with water need to be drained and replaced with new oil to reduce the risk of engine damage.
6. Dry Your Car Components
After a car is submerged in floodwater, it is certain that the interior components of the car are also affected. Any removable interior components such as radios can be removed to be cleaned and dried.
You can also wash the flood-damaged car with a high-pressure water spray, especially in hard-to-clean areas such as the car engine, tires, and brakes.
However, avoid spraying water directly into the air filter and the engine oil cap as this may potentially damage these components. Clean any dirt or mud on the flood-damaged car seats – make sure they are completely dry to avoid musty smells.
7. Petrol Flushing (If Necessary)
The position of a car's fuel tank can also lead to it being affected by floodwater. If you suspect that floodwater has entered your car's fuel tank, remove the petrol that has been contaminated with water to prevent more serious engine damage.
If necessary, seek advice from your mechanic for further clarification.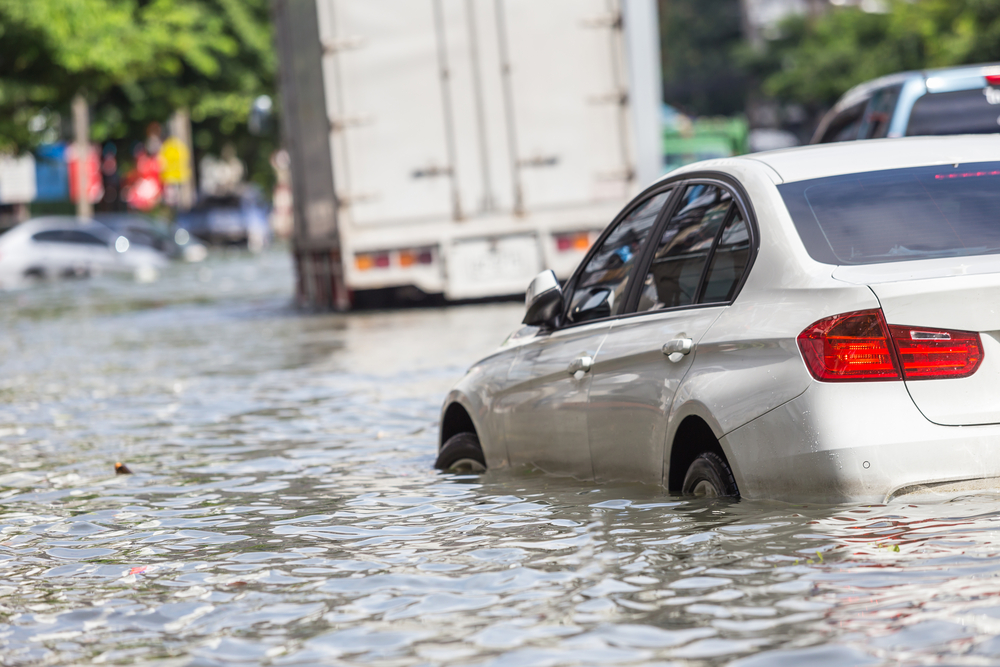 Car Insurance Claim Process, How to Claim Flood Car Insurance
If your car is protected by natural disaster coverage or flood car insurance, you can make an insurance claim from your insurance company. Here are the steps to make a car flood insurance claim to make things easier for you.
1. Contact Your Insurer
If you find yourself in a situation where your car is submerged in flood water, you need to report the incident to your insurance company. If necessary, get assistance from a towing service to take your car to the nearest workshop.
You are advised not to start the engine of your car if it has been flooded with water, as this may cause further, more serious damage to the vehicle.
Insurance Company
Details
Zurich Insurance

📞 1-3000-88-6222 | +603-2109-7999

📧 callcenter@zurich.com.my

⏰ Monday – Friday, 8.30 am – 5.15 pm

Tune Protect

📞 1-800-228-863

📧 hello.my@tuneprotect.com

⏰ 24 hours

AXA Insurance

📞 +603-2170-8282

📧 claims@axa.com.my

⏰ Monday – Friday, 8.30 am – 5.15 pm

Takaful Malaysia

📞 1-3000-88-252-385

📧 csu@takaful-malaysia.com.my

⏰ 24 hours

Takaful Ikhlas Malaysia

📞 1-800-88-1186

📧 ikhlascare@takaful-malaysia.com.my

⏰ 24 hours
2. Gather Relevant Evidence
In addition, you also need to gather related evidence to facilitate the claims process. Most insurance companies require supporting documents and related evidence in car insurance claims such as:
Record the location, time and date of the flood incident;
Take pictures of the damage caused by the car being submerged in flood water;
Prepare copies of your driving license, identification card, car registration document, and insurance policy (or cover note) for reference;
Other supporting details or documents (if necessary).
3. Make a Police Report
You need to make a police report as soon as possible. According to the Road Transport Act 1987, a police report must be made within 24 hours of the incident.
However, a police report may still be accepted after the 24-hour period if you have a reasonable excuse, depending on the assessment of the police.
4. Submit the Claims Form
If all the necessary documents and evidence are complete, submit the claims form to your insurance agent or car insurance company. Usually, the insurance company will inform you of the time required to process your claim.
5. Send the Car to the Workshop
Afterwards, send your car to the nearby panel workshop authorized by your car insurance company. You can refer to your insurance company to get a complete list of car insurance panel workshops that can handle your flood-damaged car.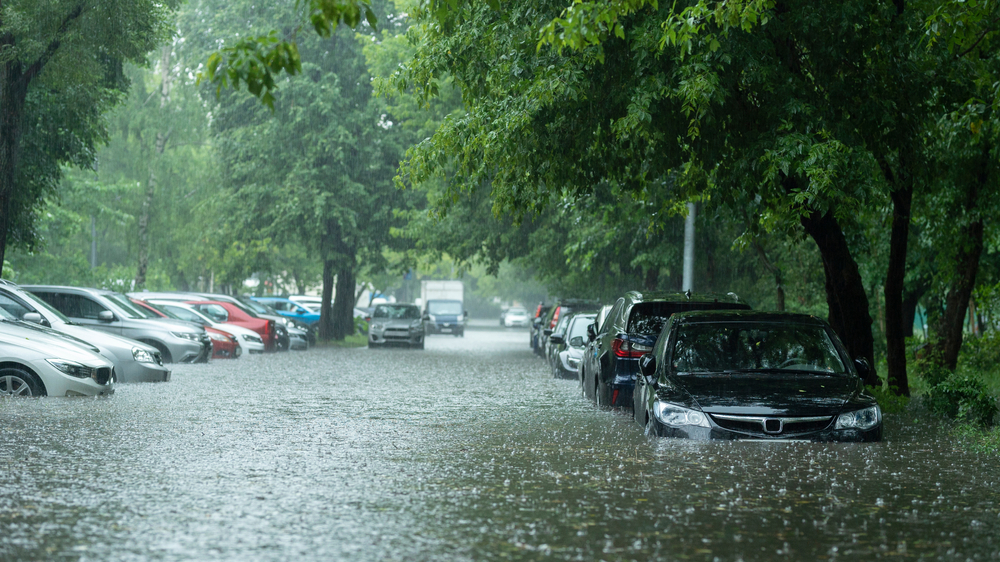 Flood Car Insurance: Additional Coverage for Natural Disaster (Special Perils)
Comprehensive car insurance coverage is one of the most popular car insurance policies among car owners in Malaysia. It offers protection against damages caused by accidents, theft, or fire, as well as damages, death, or injury to third parties.
However, this coverage alone is not sufficient to protect you in the event of a natural disaster. Therefore, you need to get additional coverage known as special perils (natural disaster insurance). Basically, special perils protection covers your car in the event of vehicle damage caused by natural disasters such as floods, fallen trees, landslides, and others.
This natural disaster coverage can be added when you renew your car insurance with an additional payment estimated at around RM50 to RM200 per year depending on your car insurance policy. You can refer to your car insurance agent if you are considering getting comprehensive car insurance including natural disaster insurance coverage. You can also visit the Qoala website, the best insurance platform in Malaysia, for further information.