People get concerned about flooding every time there is prolonged, heavy rain, especially in high-risk areas. Your financial situation could be significantly impacted if you do not have flood house insurance for your home or natural disaster insurance. What should you do to ensure you get compensation rights when dealing with situations like this? This article will discuss the importance of flood insurance for your house and the steps involved in filing a claim.
How to Claim Flood Home Insurance?
In general, flood insurance is not included in your basic home insurance policy. This means that you will need to pay an additional amount to get a flood insurance policy for extra insurance coverage. Usually, home insurance only protects against the damage caused by fire, lightning, and explosion.
However, there is a possibility that a flood insurance policy is already included in your home insurance policy. This is due to the fact that the bank also has its own interests that must be protected. For instance, the bank will suffer losses if the flood causes your home to collapse. Let's say you can't afford to pay for a home loan, the bank won't be able to auction or seize the property house if your home is destroyed.
You are encouraged to contact your bank to confirm whether or not you have flood insurance. To file a claim with your flood insurance if a flood happens, follow these four steps:
Inform your agent or insurance company about property loss information.
Ensure that the insurance panel has received all the necessary information, documentation, and images.
The insurance will carry out further investigation and assess the degree of loss.
The insurance panel will help you make a claim according to the amount of protection that has been agreed upon in the policy.
How to Get Flood Insurance for Your House?
Floods are a risky tragedy that causes severe damage and destroys property, including homes, furniture, cars, and so on. You can see it for yourself in newspapers or on social media, where pictures of the effects of the flooding, such as houses and cars being submerged in flood water. Therefore, this flood insurance is essential as a precaution. If you still don't have flood insurance, do the following:
Find a home insurance policy for flood protection by asking an insurance agency or finding the best insurance plan on the website;
Consult with an insurance agent or use the insurance calculator on the website of the insurance provider of your choice to determine the cost of flood house insurance;
Check and compare each insurance policy offered;
Decide which insurance plan is the best for you.
You are advised not just to compare the prices alone. Identify the types of protection offered for every insurance policy offers. After you have chosen the best home insurance policy for you, you can now breathe a sigh of relief as your home is now covered in case of flood loss.
Where Can You Make A Flood Insurance House Claim?
In Malaysia, there are various insurance companies offering flood insurance policies. Here are two flood insurance claim platforms that you can consider:
LPPSA Flood Claims
For civil servants taking the financing scheme under LPPSA, you can also make flood insurance claims through the insurance panel registered with your LPPSA housing scheme. However, not all insurance panels under LPPSA offer flood protection. Therefore, you need to check your insurance policy to determine if you can make a claim.
All public sector housing financing under LPPSA is protected by the Long-Home Ownership Protection Policy (LTHO) from the LPPSA insurance or takaful panel selected by the customer when submitting a financing application. The insurance panel for LTHO insurance claims is as follows:
Takaful Malaysia AM Berhad
Takaful Ikhlas General Berhad
Etiqa General Takaful & General Insurance Berhad
Zurich General Takaful Berhad
Flood Claims Through Your Preferred Insurance Company
Here are some of the insurance companies offering flood insurance policies that you should consider:
Insurance Company (Policy Name)
Protection Offered
Etiqa
(Home Owners/Household Insurance)
Building
Household
Building and household
Tune Protect 
(Tune Protect Home Easy)
Building and household
AXA
(SmartHome Optimum)
Building
Household
Takaful Ikhlas
(IKHLAS Home Protect Takaful)
Building and household
Zurich
(Home or household protection)
House owner
Household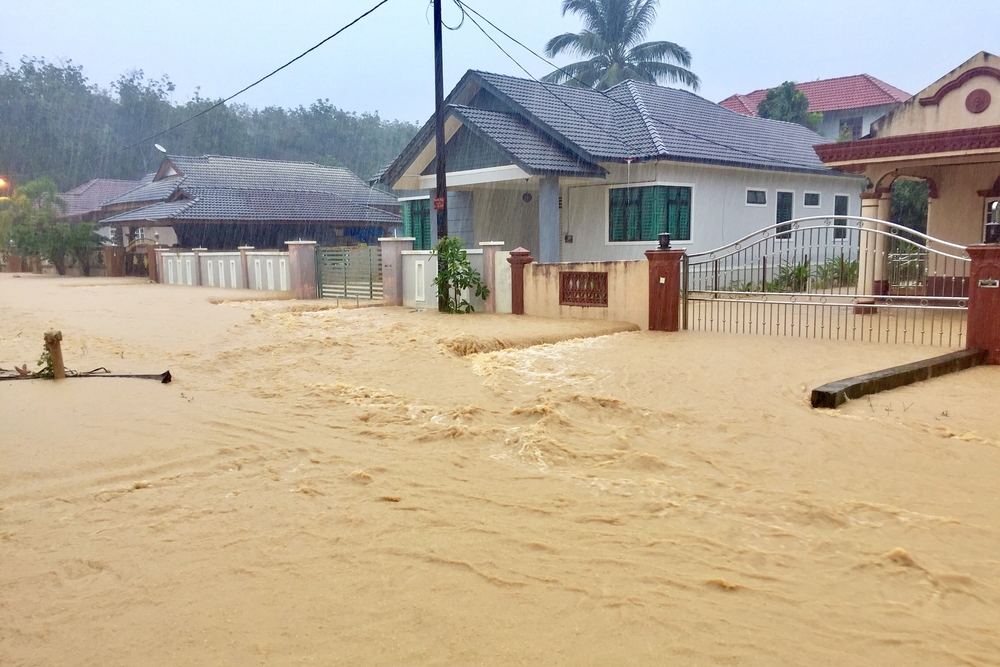 All You Need to Know About Flood Insurance for House
While you may feel that your home area is not an area at risk for floods or landslides, you are still advised to obtain this insurance policy. This is because floods such as floods occur unexpectedly and our control as humans. However, one thing you can control is how you manage and plan your finances.
By owning flood insurance, you will be able to protect yourself from incurring large costs to cover losses. Flood insurance policies can help you financially to restore your home without using up your savings, taking on debt, or depending on government or non-profit assistance. All you have to do is make a claim, and compensation will be given to help ease your burden on the cost of loss.
Advantages of Flood House Insurance
In Malaysia, floods are something that happens, and every time it happens, the affected homeowner will surely suffer a huge loss. Here are some benefits of flood house insurance that will help you cope with the flood disaster:
1. Affordable Price to Protect Your Property
While you may need to spend more than every month to get this insurance policy, you must be aware that the cost is much lower than the cost you need to bear if your home is flooded.
As mentioned earlier, this protection not only protects your home but also protects your own finances. For example, if home furniture is damaged due to floods, you do not have to use all of your savings in the bank as you can claim insurance, and your burden will be reduced.
2. Help You to Always Be Ready
Flood insurance is a smart and best way to help you be more prepared for any possible floods. You don't have to worry about the costs you need to bear as you know the flood insurance policy you take can help ease your financial burden.
In general, floods occur due to rain and monsoon. However, floods can also occur due to the drainage system problem that is clogged or not well maintained. Therefore, if your home area will not be watered, you may need to think again and consider taking a flood insurance policy because anything can happen.
Flood House Insurance Features That Must Be Included in the Policy
There are many insurance policy options that you can choose to suit your needs. To make sure you get the best flood insurance policy, you need to make sure your policy has the following coverage:
1. Protect Damage to Home Building Structures
You first need to ensure that your insurance policy protects the damage to the home structure, such as walls, roofs, and others. Although your home is strongly built, a strong flood current can damage the structure of your home.
2. Protects the Loss of Furniture and Household Goods
Make sure the furniture or home appliances, such as electric hardware and so on, are protected before you choose your flood insurance policy. Usually, most flood policies in the market only protect basic home equipment such as furniture. 
Some insurance plans do provide coverage for damage to electrical items like refrigerators and washing machines. However, the expense of interior decorating is not eligible for loss compensation.
In conclusion, flood house insurance or natural disaster insurance is vital in protecting your home. Remember, you have made a huge investment to own your home now. To safeguard your property and the people you love, purchase this flood insurance for your house.
Also, if you are considering getting the best home insurance in Malaysia, you can get your home insurance in Qoala! In addition to home insurance, Qoala also provides cheap motor insurance and the best car insurance for you.