House renovation is a common practice for homeowners, whether they have just purchased a new house or a subsale property. Renovation projects can range from installing lighting fixtures and fans to upgrading plumbing systems or even expanding the house by adding rooms at the side or rear.
Renovation Cost Malaysia 2023: How Much To Renovate A House In Malaysia?
How much renovation cost in Malaysia? Technically, the cost of renovation in Malaysia can vary significantly depending on factors such as location, the size of the residence, the type of modifications to be made, and the services of your contractor.
For instance, the cost of renovating a village house in Terengganu may not be the same as renovating a terrace house in Kuala Lumpur. Similarly, 2 storey house renovation cost is not the same as renovating a single-story terrace house, and the cost of renovating a flat is different as well.
How Much Should You Budget For Home Renovation?
Depending on the type of modifications and materials used, the cost of your home renovation may vary. However, you can refer to estimated home renovation costs provided below as a guide.
These price estimates are based on the average-sized condominium renovation, which is typically between 1,000 to 1,500 square feet.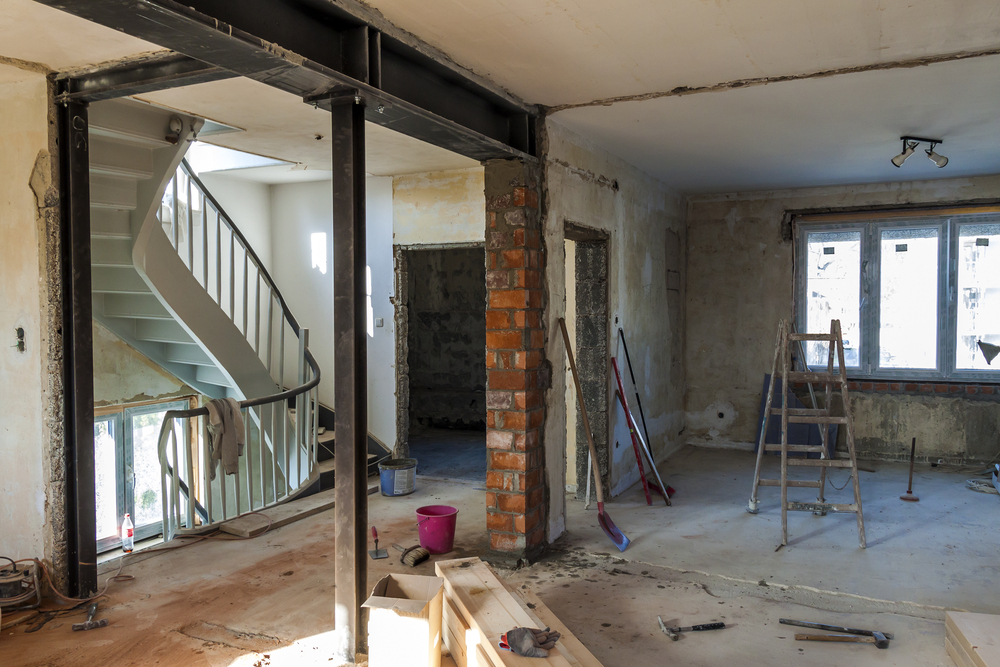 Low Budget Renovation (RM20,000 to RM30,000)
The cost of renovating a home on a low budget includes basic repairs, floorplan adjustments, and minor wet works like plastering ceilings. It may also cover kitchen renovations for small to medium-sized kitchens, such as installing compact cabinets and small wardrobes.
Average Renovation Cost Malaysia (RM31,000 to RM60,000)
This budget range includes all basic wet works like demolishing walls (including kitchen wall demolition costs), installing wardrobes, and kitchen cabinet installation. It might also cover laminate or vinyl flooring installation.
High Budget Renovation (RM60,000 and above)
The estimated cost for high-budget home renovations encompasses all the above-mentioned aspects, including upgrading essential systems like electrical wiring, plumbing, and toilets. This budget range is often necessary if you've purchased an older condo that requires more foundational work.
In essence, you should allocate approximately RM3,000 to RM10,000 (or possibly more, depending on the circumstances) for electrical and plumbing work in a house. The general contractor's fee typically ranges from 10 to 15 percent of the total home renovation cost. These costs do not include electrical fixtures such as lights and fans.
How Much Should You Allocate for Renovating Based on Space Including Home Furnishings?
Sometimes, newly purchased homes may not come with complete furnishings or may require some upgrades. Therefore, you may need to be prepared to spend money on renovation-related expenses. Here is an estimated cost breakdown for renovating different parts of the house that you should consider:
Home Renovation: Estimated Wet Works Costs
If the renovation process involves wet works, e.g. kitchen extension, you may need to allocate an additional RM10,000 to RM20,000. If you want to know the estimated kitchen extension cost Malaysia, here's a price guide for renovation cost per square foot Malaysia for your reference.
Lets say you want to extend the kitchen area, with a width of 20 feet and a length of 10 feet, assuming the renovation cost per square foot is RM130 per square foot
Site area (width of 20 feet and a length of 10 feet) X Price per square foot = House renovation cost
200 square feet X RM130 per square foot = RM26,000
Kitchen Renovation Cost Malaysia
If your home's kitchen requires renovation work, consider a renovation cost of approximately RM1,000 to RM2,000 for additional electrical work. The cost of renovating the kitchen does not include cabinet costs, which can range from RM5,000 to RM15,000, depending on the materials used.
Cost of Living Room Renovation
During the home renovation process, many people choose to make changes to the living room. Typically, the costs involved include major expenses such as installing lights, fans, and air conditioning. Labor costs may range from RM500 to RM2,000, depending on the number of lights and additional electrical points required.
This renovation cost estimate does not include the cost of installing plaster ceilings, which can range from RM1,000 to RM3,000, depending on the room's size. If it involves custom cabinet installation, this cost may increase depending on the cabinet materials used.
If it involves ordering and installing curtains, the cost is around RM300 to RM1,000 (for full-height curtains).
Bedroom Renovation Cost
The cost of installing lights and plaster ceilings depends on the room's size, typically around RM500 to RM1,000. Bedroom costs include wardrobe installation (around RM1,000 to RM3,000) or possibly more if you have a larger wardrobe or use more expensive materials.
If it involves ordering and installing curtains, the cost is around RM300 to RM1,000 (for full-height curtains).
Editor's Note: All home renovation costs mentioned in the article are estimates only. Renovation costs can be influenced by factors such as raw material costs, labor costs, work quality, materials used, location, house type, and exchange rates.
For the best experience, request house renovation quotations from at least three contractors before making a decision.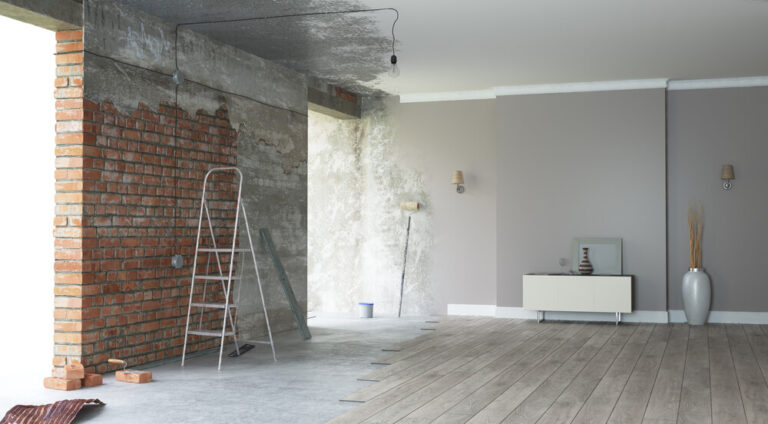 9 Common House Renovation Mistakes to Avoid
For those who are involved in the home renovation process for the first time, it is important to know the mistakes to avoid during home renovation. If you make missteps and miscalculations, it can have a direct impact, especially on your finances and emotions. Here are nine home renovation mistakes you should avoid:
1. Not Doing Enough Research
Before starting a home renovation, it is advisable to conduct sufficient research. Gather enough information before embarking on the home renovation process, including estimates of renovation costs such as the cost of breaking down walls, the cost of extending the kitchen, and so on.
With adequate knowledge of home renovation matters, you can avoid being taken advantage of by contractors. Some contractors tend to exploit customers who are not knowledgeable about home renovation costs.
2. Choosing A Contractor Offering Cheap Renovation Packages
In matters related to home improvement, many considerations need to be made before making any decisions. It is important to know that a cheap home renovation price is not the only thing to pay attention to.
Get Multiple Renovation Quotes
When choosing a contractor, carefully review the quotations provided. If possible, obtain quotes from several contractors so that you can make comparisons. This way, you can choose a home renovation package that offers the best price.
Appoint Different Contractor for Different Spaces
This approach allows you to get different ideas and labor rates for each space that needs renovation. For example, not all home contractors have the skills to renovate terraced houses. You need to ensure that the chosen contractor has experience and skills to avoid shoddy and incomplete work.
Research Before Agreeing
Do not easily fall for a contractor's sweet promises. Do research on the internet or ask for the opinions of experienced acquaintances to avoid overspending beyond your set budget.
Not all suggestions made by contractors may be suitable for your home. Consider the pros and cons of any proposal before making a decision.
3. Not Prepared for Unexpected Renovation Costs
When renovating a house, sometimes the renovation costs exceed the set budget. This situation typically arises due to various factors, such as hidden damages, structural issues, roof leaks, and so on. These unforeseen situations indirectly increase the renovation expenses. Therefore, you need to be financially prepared for such circumstances.
Allocate at least 10 to 20 percent of the total estimated renovation costs for unexpected situations like these. You certainly wouldn't want to experience a halfway halt in your home renovation due to a lack of renovation budget.
4. Renovating the Entire House All at Once
Don't rush into renovating all parts of your house simultaneously. It's better to focus on specific areas first. For instance, you might want to extend the living room and kitchen before moving on to other areas like bedrooms and bathrooms.
If you insist on having all the spaces worked on by your contractor at once, the quality of the work delivered might not be satisfactory.
5. Not Specifying Electrical Wiring Locations
Before commencing electrical wiring work during a home renovation, you should prepare a wiring plan based on your home's requirements. If not done correctly, improper electrical wiring can lead to short circuits and potentially house fires.
If possible, ensure that electrical wiring is carried out by a certified and experienced electrical engineer or professional. This is crucial to ensure that the wiring process is done correctly and safely. It's also important to determine the placement of additional electrical outlets and the appropriate number of outlets for your residence.
Plan carefully for outlets needed for electrical appliances in your home, such as lights, fans, air conditioners, water heaters, and more.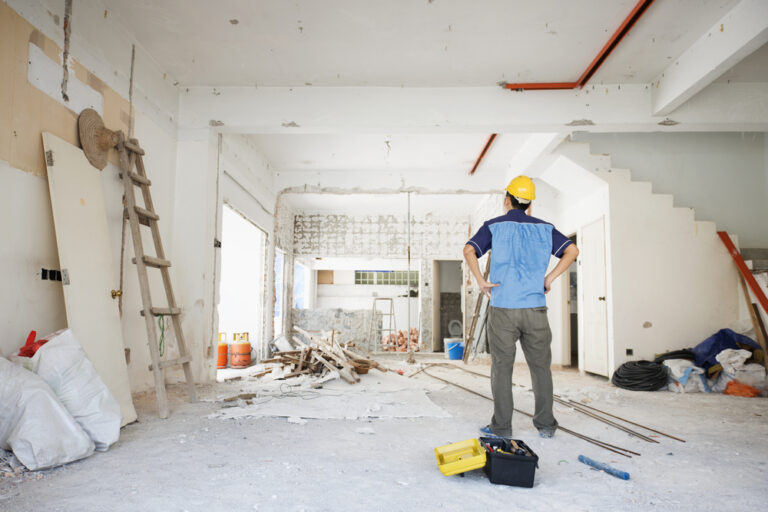 6. Choosing Cheap and Low-Quality Materials
For many people, the best way to save on home renovation costs is by using cheap and low-quality materials. However, this approach can have a long-term impact on your finances. Typically, cheaper construction products or materials tend to be of lower quality and won't last as long.
As a result, you might end up having to spend additional money to replace them in the future. Selecting the best products and materials for your home renovation can increase the market value of your house and ensure its quality lasts for many years.
7. Changing Your Mind Frequently
While home renovation work is in progress, it's advisable to monitor the process. This way, you can ensure that the renovations are being carried out correctly and according to your preferences and requirements. It's not wrong to request some changes to the final design of your home.
However, try not to make too many or last-minute changes that deviate significantly from the original design. Even if your requests may seem simple, they could disrupt the project and indirectly increase the cost of renovating your new apartment.
8. Providing Inaccurate Measurements
Accurate measurements play a crucial role and should be given due attention during home renovation work. For instance, let's say you've already installed kitchen cabinets and then try to fit in a newly purchased refrigerator. You find that the refrigerator doesn't fit properly into the kitchen cabinet due to inaccurate measurements.
This is likely to increase the cost of altering the design. Therefore, make sure you take accurate measurements and, if necessary, seek expert assistance in this process.
9. Failing to Obtain Necessary Permits
Permit issues are often overlooked or disregarded by many. It's advisable to obtain the necessary approvals before commencing the home renovation process. For landed properties, you need to obtain approval from the local authorities.
Meanwhile for stratified properties, you'll need to obtain approval from the management office. Typically, the management will request a deposit before the renovation work begins as a guarantee for the renovation work to be carried out.
This deposit will be refunded once the renovation process is completed, subject to situations where it's proven not to violate any development regulations.
What Happens If You Renovate Your Home Without a Renovation Permit Malaysia?
If you own a landed property and carry out renovations without the necessary permits, the local authorities have the right to demolish or dismantle any unauthorized renovations. The cost for the demolition or dismantling work will be borne by you!
If you reside in a stratified property and undertake home renovations without permission, you may be subject to fines imposed by the management according to the Strata Management Act 2013 (Maintenance and Management Regulations 2015).
Is the Property Sale and Purchase Process Valid If Renovations Were Done Without Permission?
Technically, it can be challenging to sell a house if prospective buyers request permits for any renovation work. For sellers or homeowners, it's advisable to obtain official documentation. This serves to prove that renovations were carried out in compliance with existing provisions and regulations. It also helps you avoid difficulties in selling your property.
Imagine you're in a scenario where you've bought a property, and it comes to light that there were unauthorized renovations, but you only become aware of this after the purchase. As a buyer, you would be subject to actions like demolition or the need for retrospective permission.
This situation indirectly impacts your finances for rebuilding or covering the cost of demolition.
Does Home Insurance Provide Coverage if Accidents Occur During Home Renovation?
In essence, whether or not your home insurance covers accidents during a renovation depends on the situation and circumstances. If the renovation process was carried out with proper permits, complied with renovation limits, and met other requirements, making a claim should not be an issue.
However, in the event of accidents such as fires or structural collapses, insurance companies will conduct a thorough investigation. If you fail to provide permits or approvals, the insurance company is likely to deny your claim. As a result, you'll have to dig into your own pockets to cover the repair and damage costs.
Failure to obtain permits can jeopardize your insurance coverage. Therefore, the safest step you should take before renovating your home is to obtain the necessary permits. It proves that you have the authorization to carry out the renovation project.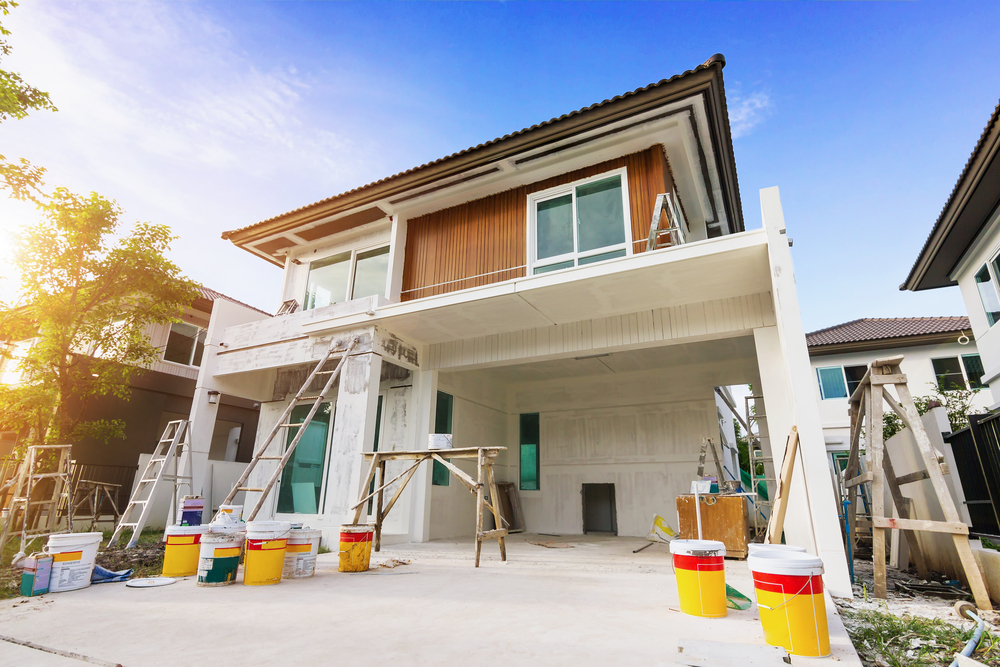 Renew Your Home Insurance with Qoala for Extra Protection and Peace of Mind
When you're looking to renovate your house, don't rush into decisions. Make well-considered choices – renovating your home can be a costly affair. So, ensure you avoid renovation mistakes that could impact your finances. There's no denying that home renovations can come with a hefty price tag, especially when there's a lot to be done.
That's why it's crucial to plan your finances carefully. If needed, set up a dedicated savings fund for home renovation – it's much better than taking out a personal loan! There's nothing wrong with spending on your own home, as long as you don't go overboard to the point of needing personal loans.
Be a wise consumer by spending sensibly. Furthermore, if you're considering getting the best home insurance, visit Qoala website for more information. Qoala is Malaysia's most popular insurance renewal and comparison platform. You can get comprehensive home insurance protection safely and easily at an affordable price.