House fire insurance is offered to real estate owners with the aim of protecting residential property or commercial premises from losses or damage against fire, lightning or domestic gas explosion. In other words, house fire insurance can be likened to an umbrella of financial protection in the event of an unwanted situation that is at risk for loss or damage to your property.
Is It Necessary to Have a House Fire Insurance?
Buying a house is one of the big and expensive investments. Therefore, it is important for you to protect the assets purchased with appropriate insurance coverage such as home fire insurance to prevent and reduce the risk of loss in the event of accidents. However, many may not be familiar with house fire insurance. So, what do you need to know before buying home fire insurance?
1. Types of Home Insurance
Basically, there are three types of household insurance that you can consider-these three insurance offer a variety of protection and costs depending on your choice. Therefore, you are advised to compare and make a detailed review before selecting your home fire insurance (or home fire insurance) for you.
Basic Fire Policy
The basic policy plays an important role in protecting your home from losses or damage to real estate value. It offers protection related to real estate (or buildings) in the event of loss or damage to the fire – this policy does not include household protection. However, this policy can be expanded with other additional protection such as flood damage, storms, land deposition and so on. You can consult your insurance company to get a full list of additional protection that is right for you.
Houseowner Policy
In contrast to the basic fire policy, this policy offers additional protection for real estate – it offers protection to the physical structure of real estate such as walls, roofs, building fixtures and buildings, external structures and so on. In other words, the policy offers protection from home damage due to natural disasters such as the roof of the weather, the walls are damaged by floods, fires, broken pipes and other bad incidents that could affect the home.
Household Policy
Household policies offer additional protection to home items and equipment. This means that this policy protects home goods and equipment such as furniture, electrical goods and so on. This means that in the event of incidents that can be insured such as fire damage due to fire, lightning, floods, broken pipes and so on, you can claim damages from the insurance.
2. Premium Insurance: House Fire Insurance Coverage
Disasters such as natural disasters or fire are something beyond control and risky causing the destruction of property. If the owner has a residential insurance cover policy, it entitles the owner to receive compensation in the event of a disaster depending on the type of protection or insurance premium he has.
Therefore, it is important for you to understand the fire insurance policy you have to avoid misunderstandings or frustration if the insurance company does not pay compensation in the event of damage or destruction.
Basically, insurance premiums or home fire insurance prices vary depending on the size and price of the house. Home insurance prices can also be influenced by the additional protection you choose – you can consider additional protection (by home location) as follows:
Aircraft damage;
Earthquake;
Volcanic eruptions;
Storms and hurricanes;
Floods;
Water tank fractions;
Bush fire;
Landslide;
Riot;
Fallen trees;
Explosion and so on.
For example, if your home is close to the airport, you can consider getting additional protection of damage to your home.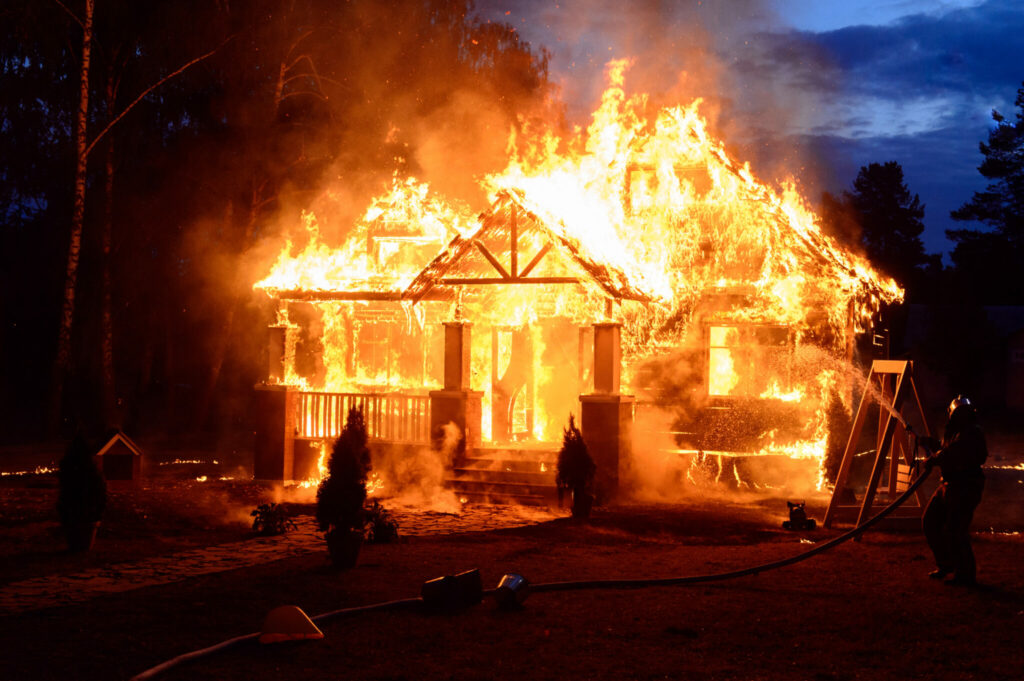 3. Types of Fire Insurance Compensation Claims
Basically, the cost of repairing damage or compensation will only be paid if the damage to the residence is listed or specified in the insurance policy. This means that the basic fire insurance policy subscription will only protect the home from losses caused by fire and excludes other things not specified in the policy.
This basic fire insurance coverage will not protect the home from landslides (caused by heavy rainfall). In addition, other damage caused by human abuse such as riots, strikes or malicious intent is also not included unless you include this additional protection in your policy.
This means that if your home damage is not due to any of the reasons stated in the policy, you cannot or should not be eligible for fire insurance claims. Basically, there are two basics of compensation payments that may be used in the event of damage or loss due to any Insured incident, as follows:
The Basis of Recovery
In the event of an incident or incident, the policy owner will receive the full value of the damaged or lost goods.
The Basis of Damages
The policy owner will be damaged based on the value of lost or damaged goods subject to the current depreciation rate (compensation may be lower than the original value of the purchase).
The value of compensation to be received is usually dependent on your premium value. You can refer to your insurance company for more information.
4. How to Make a House Fire Insurance Claim
If you already have fire insurance, you can claim insurance in the event of a disaster on your home. You can submit a claim by completing the required information and attaching a letter and supporting documents. This is to facilitate the insurance processing the proper evaluation process.
Take a picture of a house damage as a result of a fire as evidence;
Make a police report as soon as possible;
Notify the agent or insurance company immediately – the insurance company will usually send an adjuster to evaluate the condition of the damage and estimate the loss;
Submit a complete compensation claim form and include the required supporting documents;
Payment of compensation will be made within seven to 14 days (depending on the insurance company) once the compensation claim is made.
5. Documents Required for Fire Insurance Claims
Basically, each insurance company sets specific requirements and resolutions depending on the standard operating procedure. However, the insurance company needs the following supporting documents to process your claim:
Complete fire damage claim form;
List of detailed property damage;
Police reports;
Fire Report;
Asset records and purchase receipts;
Inventory records and evidence of acceptance;
Insurance Claims Report (Adjuster) Report.
Get home insurance coverage for more secure life
You cannot know the incidents or disasters that will happen to your home such as fire, floods and so on. Therefore, you need to get home fire insurance coverage immediately for peace of mind.
You can not only compensate if something happens to your home, but it indirectly makes your life with your family more secure and safe as your home is covered by insurance. Get the fire insurance plan cover before it's too late.
Also, if you would like to find more info on home fire insurance, visit the Qoala website for more info. Qoala is a comprehensive comparison platform of insurance in Malaysia with the best home insurance cover offer at affordable prices.