Home refinancing or home refinance is one way to reduce housing loan repayments by lowering the loan interest rate. In general, it is the best alternative that borrowers can do to improve cash flow, especially for individuals who are facing financial problems. Despite that, there are many aspects that need to be emphasized before doing home refinancing, including identifying the current financial position, the purpose of financing, as well as the pros and cons of home refinance for the applicant.
Refinancing Home Loan: Things You Must Know About Home Refinance in Malaysia
What does home refinance mean? In general, home loan refinance or housing loan refinancing refers to the process of exchanging an existing housing loan for a new housing loan. Loan refinancing is done in order to obtain better loan terms or interest rates and reduce the amount of monthly installment payments.
In addition, this home loan process also aims to improve the borrower's cash flow because usually loan refinancing offers a lower interest rate with a longer loan payment period compared to existing loans. In Malaysia, the home refinance process is done to:
get a lower loan interest rate compared to the existing loan interest rate;
shorten the term of existing loans;
leverage the latest real estate market values to finance new real estate purchases;
consolidating existing debt or debt consolidation;
switch between different financial products (fixed-term, flexi or semi-flexi mortgage loans).
Home Refinance Terms to Reduce Monthly Commitment
If you are facing financial problems, home loan refinance is one of the ways you can consider. Despite that, there are some conditions and qualifications that borrowers must comply with. Here are the home refinance conditions for your reference and guidance:
1. Loan Eligibility
One of the important things to do before you apply for home loan refinancing is to check the current home loan eligibility requirements. There are many things you can do to check your loan eligibility either using a home refinance calculator online or dealing directly with the bank. This method allows you to get an initial overview of your current loan eligibility status.
2. Check CCRIS
The CCRIS report or Central Credit Reference Information System (Central Credit Reference Information System) refers to the borrower's personal credit report that can be accessed by the bank to obtain information on the borrower's credit behavior (overdue loans, suits and bankruptcy status).
It also allows the bank to access information to identify the borrower's ability to repay the loan and assess whether the previous loan payment history is good or not. If the CCRIS report is not good, it is very likely that your home loan refinancing application will be rejected.
5 Ways to Refinance a Home to Ease the Application Process
Most homeowners choose to refinance a home loan because they want a lower interest rate alternative payment. If you are facing financial problems, home refinance is one of the ways you can consider. Here are the ways to refinance a home that need to be followed to facilitate the home loan refinancing process for your guidance:
1. Prepare the Required Documents
Prepare complete documents required by the bank such as personal information, income certificate and so on to launch your application process. Here is a list of home refinance documents required by the bank for your reference:
Category
Required Documents
Working With Fixed Monthly Income
Identification card;
Latest three months salary slip statement;
Latest three months bank statement;
Income tax and payment receipts;
EPF statement;
Letter of Sale and Purchase Agreement;
Funding Offer Letter;
Debt balance statement;
Grant.
Working Salary Based on Commission/Sales
Identification card
Statement of commission/income for a period of six to 12 months
Six month – 12 month bank statement
Income tax and payment receipts;
EPF statement;
Letter of Sale and Purchase Agreement;
Funding Offer Letter;
Debt balance statement;
Grant.
Sole Proprietorship Business
Identification card;
Form D;
Statement of commission/income for a period of six to 12 months;
Business and individual bank statements for a period of six months to 12 months;
Income tax and payment receipts; EPF statement;
Letter of Sale and Purchase Agreement;
Funding Offer Letter;
Debt balance statement;
Grant.
Pte Ltd Company
Identification card;
Company and individual bank statements for a period of six months;
Association Memorandum & Articles (MAA);
Form 24;
Form 49.
In addition, the bank also requires supporting documents such as tenancy agreement, savings account, shares and fixed deposits depending on the situation.
2. Check Credit Score
Do a credit score check before applying for refinancing – a good credit score can help you get the best interest rate and make it easier for your application to be approved. Credit score checks can be done free of charge by referring to Bank Negara Malaysia, the Credit Counseling and Management Agency or other related financial agencies.
3. Know the Home Market Price
You are also advised to estimate the current position or fair market value of your property. You can do a survey of current prices through websites that provide related services. You can also use the home refinance calculator available online.
Basically, home loan refinancing is the best decision for you if the current property value is higher than the outstanding debt.
4. Be Aware of the Refinancing Costs to be Incurred
The refinancing process is subject to certain costs including moving costs. What is moving cost? Moving cost basically refers to the money that you need to spend or the cost that needs to be incurred to get a new loan. These costs include stamp duty, appraisal fees, legal fees, disbursements and so on which are about two to three percent of the entire loan.
If you refinance to save on interest rates, compare the existing costs with the interest savings that will be obtained through refinancing before making a decision.
5. Submit Application
Before sending the loan refinancing application to the bank, check the package and refinancing scheme offered. Make a comparison of interest rates, the best bank for home refinance as well as the best and worthwhile loan scheme for you. If unsure, ask a friend for advice or help from an experienced banker.
Home Refinance Period
How long does the home refinance process take? Overall, the home refinance process can take up to several months depending on the situation (between two to six months depending on the case). This is because, it involves many processes including obtaining permission or approval from the state authorities for the case of leasehold properties with strata or individual ownership.
In addition, the bank will also appoint an appraiser to inspect your home after receiving your application. The appraiser will then prepare a property valuation report before submitting it to the bank for further processing.
Types of Refinancing, Home Refinance Calculation Guide in Malaysia
The process of refinancing or refinancing loans in Malaysia usually involves two types of loans – car loans or housing loans. It is divided into several types, according to your purpose and needs. Home loan refinance or housing loan for example is divided into three (3) types of home refinance as follows:
1. Refinancing Rates and Terms
This category of refinancing changes the existing interest rate to a new, better interest rate without changing the amount of the existing loan. It causes the monthly commitment to be lower, thus stabilizing your financial position.
For example, a change in the Overnight Policy Rate (OPR) causes the existing interest rate to decrease or become lower, for example from six percent to four percent. If refinancing is done, you can enjoy savings of at least two percent of your loan interest.
If your existing property is worth RM500,000, you can save almost RM10,000 a year. You can take advantage of this type of refinancing if there is a change in the OPR rate to enjoy a lower monthly payment rate.
2. Cash-In Refinancing
You can also consider this cash-in refinance if you want to pay off a large amount of your existing mortgage principal. It allows you to negotiate lower interest rates and monthly payments in a new home loan.
This means, this refinancing actually offers a better alternative if you have an equity value of less than 20 percent.
How to Know Your Current Equity Position
To find out the current equity position, you need to calculate the Loan-to-Value (LTV) ratio first. Assume your current property value is RM200,000 and you have cleared RM10,000 of the entire loan. This means, you still have a debt balance of RM190,000.
In this case, your current LTV ratio is 95 percent with an equity value of five percent – an LTV ratio above 80 percent can be considered for this type of refinancing. You can apply for this cash-in refinancing and pay RM30,000 in lump-sum to reduce the existing loan principal to RM160,000.
Even so, an LTV ratio of less than 80 percent is not recommended to apply for this type of refinancing.
3. Cash-Out Refinancing
Cash-out refinancing allows you to borrow 90 percent of the total value of your current property. Assume the property value purchased 10 years ago is worth RM300,000. The value of this property is estimated to likely increase to RM500,000 today. The maximum loan margin allowed to refinance the loan is 90 percent which is about RM180,000.
This amount can be used to pay off the existing loan balance to enjoy lower monthly payments. Even so, the RM180,000 earned is not free because you are subject to the following:
Existing property value is RM300,000 – 90 percent of the current loan amount is RM270,000;
The current property is estimated to increase to RM500,000 within 10 years;
You take out a 90 percent loan of RM500,000 (today's real estate market value) or the equivalent of RM450,000;
If the loan period and interest remain at an estimated rate of 4.25 percent per annum, you will have to bear the interest rate of the new loan worth RM2,060.52 compared to the interest rate of the old loan worth RM1,236.31;
You have to bear the additional cost of RM824.21 per month;
You may be able to enjoy excess money from this refinancing for other things such as home renovation, paying education fees, business capital and so on.
However, the monthly installments will increase which may increase your monthly commitment.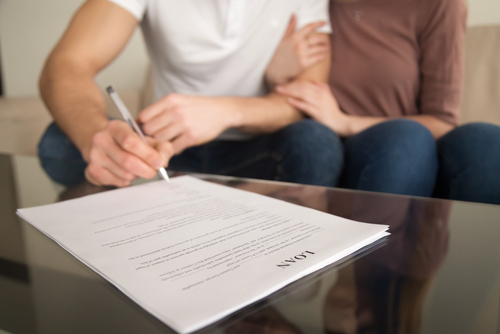 The Pros and Cons of Refinancing Home Loan
In general, loan refinancing or home refinancing can help improve financial flow and reduce the burden of your monthly commitments. Despite that, refinancing also has its own pros and cons. Here are the pros and cons of home refinance for your guidance as follows:
| | |
| --- | --- |
| Advantages of Home Refinance | Disadvantages of Home Refinance |
| Enjoy lower interest rates | Penalty charges may apply |
| The repayment period can be shortened | The value of the prepayment made may not be available if the financing is close to completion |
| Can be used to finance other needs (home renovation, business plan, education etc.) | Subject to additional costs for refinancing (example: moving cost) |
| Existing debts are consolidated to save on interest | Approval is not guaranteed as banks have to take credit score and existing income into account |
| Save money, especially if current interest rates are lower |   |
Hopefully this guide on home refinancing can be helpful if you are considering refinancing a home loan. In addition, you can also visit the Qoala website for more info on home insurance. Qoala is an easy, transparent and fast insurance buying platform with competitive and affordable price offers.