The use of credit cards is often a topic of discussion among consumers. Many people consider credit cards as unnecessary, burdensome and can affect financial management if not well planned. Basically, credit card is one of the payment medium in Malaysia besides cash, debit card, e-Wallet, Buy Now Pay Later, QR Pay and so on. This article will review the types and list of the best credit cards in Malaysia that you can consider.
Benefits of Having a Credit Card
Credit cards allow you to buy goods or services without having to pay directly. In other words, this card works as a small scale loan just like a personal loan. When you pay with a credit card, you are actually borrowing money from the issuing bank.
Credit cards in Malaysia work just like any other loan offered by banks. When you use this card to make a payment, you are essentially borrowing from the card issuing bank. The purchase amount will be collected and you will have to pay it back to the card issuing bank at the end of the month or on an agreed date according to the terms and conditions. Otherwise, you will be charged interest on the unpaid amount, usually around 13.5 to 17.5 percent per annum.
Is this card a necessity or a want? Basically, this factor depends entirely on the individual. If you are highly disciplined, it may not be a problem. But if you are a spendthrift, you are not recommended to have a credit card. This is because, it may cause you to spend beyond your financial means and cause you to have to bear high monthly bills until finally being declared bankrupt.
Tips on How to Use a Credit Card Responsibly
Here are tips for using a credit card that you can practice to avoid being burdened with a high financial commitment:
Make full payment every time you make a purchase;
Don't leave any outstanding payments until the bank can charge you interest;
Pay according to the schedule and do not exceed the period set each month.
In Malaysia, cardholders are usually required to make a minimum payment of five percent or a minimum of RM50 on a set date each month. Failure to do so may result in a penalty or one percent of the unpaid bill amount (or a minimum of RM10);
Be disciplined and spend according to your means and ability to pay it back.
Process, Documents Required for Application
Basically, a credit card application can be done online for FREE or through card issuing bank kiosks that are usually available in supermarkets and so on. The required documents usually vary according to the card issuing bank and require the following details:
Public or Private Employees
For civil servants or private workers, the following are among the supporting documents required for this card application:
Copy of identity card (front & back);
Salary slip for the most recent three months;
Bank statements for the most recent three months; OR
EPF statement for the last three months.
Self Employed Individuals
For self-employed individuals, you may need the following supporting documents to apply for a credit card:
Copy of identity card (front & back);
The latest B / BE form certified by the IRB.
Types of Credit Cards Offered
In Malaysia, there are various types of credit cards offered. Every financial institution offers more than one credit card as their product, and each one has its own advantages. Because of this, many who want to have this card are confused to choose the card that suits their needs. It is usually offered divided into several categories as follows:
1. Rewards Credit Cards
It gives you reward points for every purchase on credit. Reward points received can be used to redeem gifts and other vouchers offered by the issuing bank.
2. Cashback Credit Cards
This type of card usually pays back the amount used during the purchase to the owner, and the percentage rate depends on the issuing bank. This means, you can receive cash back for every spend.
3. Low Interest Credit Cards
This card offers a lower interest rate than conventional cards, suitable for individuals who want to save.
4. Travel Credit Cards
It gives you reward points (reward miles) for selected purchases. These reward points can be redeemed to allow you to enjoy special rewards for travel such as flight tickets and seat upgrades with certain flight systems.
5. Petrol Credit Cards
This type of card also offers petrol-related benefits such as cash rebates or additional petrol fuel rewards including spending at petrol kiosks.
6. Dining Credit Cards
This card allows you to enjoy exclusive discounts and promotions from a wide variety of participating restaurants every time you dine out.
7. Shopping Credit Cards
If you like shopping, this type of card is perfect for you. It offers exclusive offers as well as various other special discounts at popular malls.
8. Islamic Credit Cards
This Islamic card offers a package that complies with Sharia law.
9. Premium
This card offers privileges focused on high-end products and luxury services such as golf, select restaurants and exclusive clubs.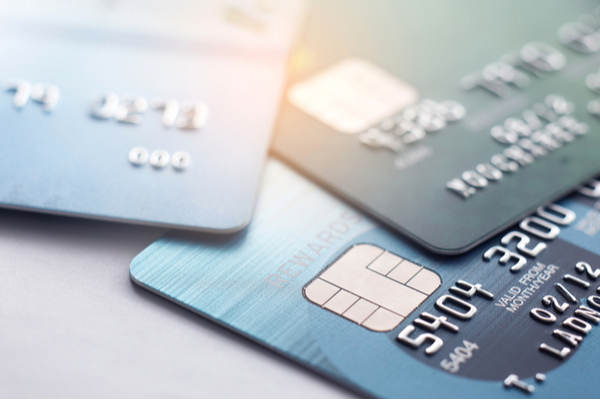 List of the Best Credit Cards in Malaysia
Credit cards are usually offered by financial institutions registered with Bank Negara Malaysia. Basically, every card offered offers attractive privileges and features subject to certain fees and charges. Here is a list of the best credit cards in Malaysia for your guidance and reference:
| | | | | |
| --- | --- | --- | --- | --- |
| Card | Interest Rate (%) | Annual Fee | Salary Eligibility | Benefits |
| CIMB e-Credit Card | 15 | RM100 | RM2,000 | This card is suitable if you like to shop online through popular shopping platforms in Malaysia. CIMB cards offer up to 12x Bonus Points per RM1. |
| Standard Chartered Liverpool FC Cashback | 15 | RM175 | RM3,000 | This card is specifically for fans of the Liverpool team and offers cashback with no minimum spending limit every month. |
| Standard Chartered JustOne Platinum MasterCard | 15 | RM250 | RM3,000 | This Standard Chartered credit card offers cash rebates of up to 15 percent on retail spending, online e-commerce transactions and e-Wallet transactions or top-ups. |
| Standard Chartered Smart Credit Card | 15 | RM120 | RM3,000 | This card also offers attractive cash rebate returns for e-Wallet transactions, online purchases and for every contactless payment transaction. |
| Citi Cash Back Platinum Mastercard | 15 | RM195 | RM5,000 | Citi Cash Back Platinum offers unlimited cash back with exclusive features, comes with balance transfer plan, easy installment payment plan and cash loan plan. |
| Alliance Bank Visa Basic | 15 | RM20 | RM2,000 | The Alliance Bank Visa Basic card is suitable as your first credit card. It offers basic features with annual savings, as well as relaxed and non-burdensome application eligibility requirements. |
| Bank Rakyat Kad Muslimah | 15 | Free | RM2,000 | This card was created specifically for women who love fashion and love to shop. It offers unlimited reward points and up to 30 percent discount every time you shop at fashion boutiques, spas, facials and at any selected partner. |
| UOB One Visa Classic | 15 | RM68 | RM2,000 | The UOB card offers unlimited cashback every month on petrol, grocery, telecommunications and food. This card also comes with a balance transfer plan and easy installment payments without interest (zero interest). |
| AmBank Islamic Visa Platinum CARz Card-i | 15 | Free | RM2,000 | The AmBank Islamic card is specifically for petrol savings at almost all petrol stations nationwide. It offers cash rebates of up to five percent and AmBonus reward points, free annual fees for life with easy installment plans and QuickCash cash loans. |
| Affinbank BHPetrol 'Touch & Fuel' MasterCard Contactless | 15 | RM150 | RM2,000 | Affinbank BHPetrol specifically for BHPetrol oil users. It offers up to 10 percent cash rebate and unlimited reward points with every RM1 spend. This card also comes with balance transfer plans, easy installments and cash advances. |
Tips for Choosing the Best Credit Card Malaysia
Basically, there are many credit cards offered by banks that can be your choice. Most importantly, you are advised to consider the following before choosing a card that suits your needs.
Take into account your total salary or income;
The income eligibility requirements for credit card applications vary according to the type of card, make sure the card you apply for is eligible with your income;
Look at your needs before getting a credit card because usually the credit card offered depends on your needs such as shopping, traveling, cash rebates and so on;
Take into account other plans offered such as balance transfer plan (Balance Transfer Plan), easy payment plan (Easy Payment Plan, EPP), or cash installment plan (Cash Installment Plan, CIP).
Frequently Asked Questions Related to Credit Cards in Malaysia
Here are common questions related to credit cards for your reference and guidance:
Can I Use a Credit Card to Get a Cash Advance?
No, you cannot use this card to get a cash advance. However, there are some card issuers that offer this kind of service. Consult the card issuer for more information.
Can I Use a Credit Card for a Transfer or Cash-Out?
No, you cannot use this card to transfer or withdraw money.
What Is the Easiest Credit Card to Pass?
As long as you have a good credit score and you meet the requirements and qualifications such as age and minimum income, your application can be easily approved.
Can I Apply for a Credit Card If My Credit Score Is Not Good?
Having a poor CCRIS and CTOS credit score can reduce your potential to get this card. You are advised to improve your credit score first before submitting an application.
Hopefully this sharing can help you get the best credit card according to your needs. Also, if you are looking for the best car insurance or cheap motor insurance, visit the Qoala website for more info. You can compare insurance from some of the best insurance companies with the best price offers thus guaranteeing comprehensive coverage for you and your family.