Owning a car does not always require having a luxury car. Whether you earn more or less than RM3,000 per month, a low-cost car can be sufficient. It is crucial to have some understanding of the comprehensive guide in selecting an affordable car that fits our budget. Otherwise, we risk overspending and exceeding our budget.
Don't Drive Yourself into Bankruptcy, Avoid Overspending and Overcommitting When Buying a Car
It may come as a surprise that financing a car is one of the primary reasons why young adults face bankruptcy. When buying a car, it's essential to consider your annual income. For example, if you earn RM2,500 per month, it's recommended to look for a car priced at RM30,000 or below, which would be considered an affordable or budget car.
However, the affordability of a car depends on the individual's financial situation. Those with fewer financial obligations can allocate more funds towards purchasing a car. Additionally, buying a brand new car is not always necessary as many people opt to purchase used cars because of their significantly lower prices.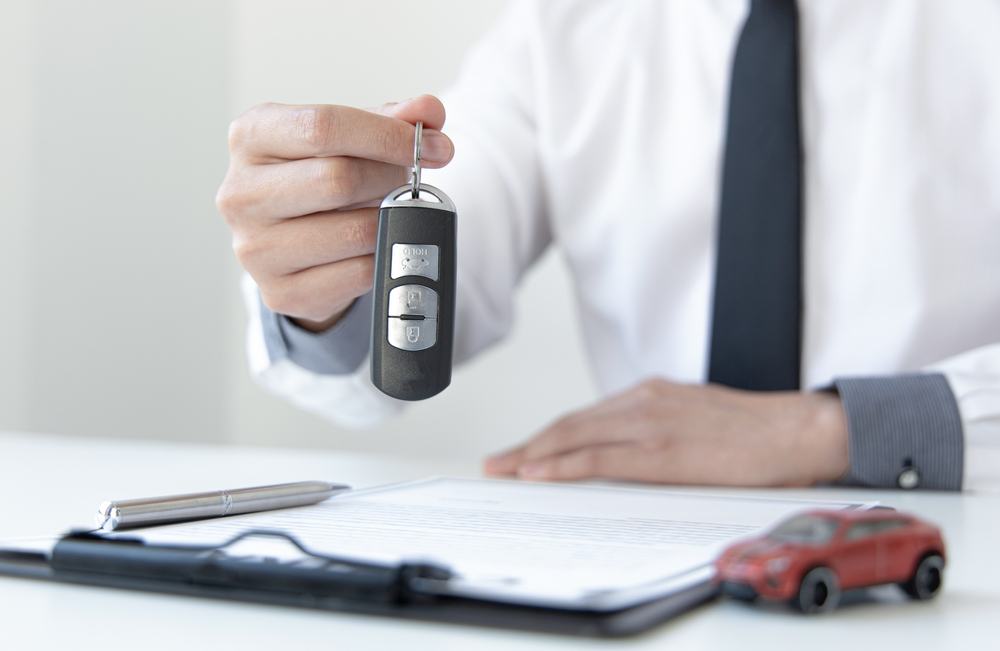 Cheap Car Malaysia: How to Calculate Car Loan Eligibility
As mentioned earlier, the most suitable car price to purchase is based on our annual income. For instance, if your salary is RM3,000, your annual income is RM36,000. Based on this estimate, the appropriate car price for you to buy is within that range.
However, it's not that simple. It doesn't take into account your net salary after deductions like EPF, SOCSO, and other monthly commitments. These are crucial factors in obtaining a more accurate estimate of car prices relevant to your income.
For example, a person with a family and a salary of RM3,000 has different and higher commitments compared to a single person, such as a fresh graduate. Therefore, the calculation of the affordable car price that needs to be purchased is different.
Here's the actual calculation method. Subtract mandatory deductions such as EPF, PERKESO, PSB, and so on. Then, calculate monthly commitments or expenses such as credit card loans, education loans, and so on if applicable.
For example, if the remaining balance is RM1,000, the monthly payment for a new car that is most suitable for your income is half of that balance. In this situation, the best installment payment for a budget car is around RM500 per month.
There may be questions about why only half of the balance, not the entire remaining salary balance? For your information, especially for university graduates, in car ownership, not only do you need to allocate expenses for car monthly installment payments, but also other costs such as car maintenance, tolls, petrol, and so on.
How to Calculate Car Loan Interest and Car Installments
The first step is to determine the values of your car loan amount, loan tenure, and interest rate, as follows:
Loan Amount = A
Loan Tenure = B (years)
Interest Rate = C
Then, use the following formulas to determine the total interest, monthly interest, and monthly installment of your car loan:
Your Total Interest = C/100 x A x B = X
Your Monthly Interest = X / (B x 12)
Your Monthly Installment = (A + X) / (B x 12)
For example:
Suppose you have a car loan amount of RM50,000 at an interest rate of 2.5 percent to be paid over five years.
Loan Amount = 50,000
Loan Tenure = 5 years
Interest Rate = 2.5 percent
Your Total Interest = 2.5/100 x 50,000 x 5 = RM6,250
Your Monthly Interest = 6,250 / (5 x 12) = RM104.17
Your Monthly Installment = (50,000 + 6,250) / (5 x 12) = RM937.50
Note that the above calculations are based on a flat interest rate for the full loan amount over the entire loan tenure. In Malaysia, most conventional car loans use this calculation method.
Top 3 Best Affordable Cars in Malaysia If You Earn Around RM3,000 Monthly
Here is a list of 3 new car models that can be owned with a salary below RM3,000 or if you have high commitments. Please note that the prices listed are on-the-road prices and do not include insurance.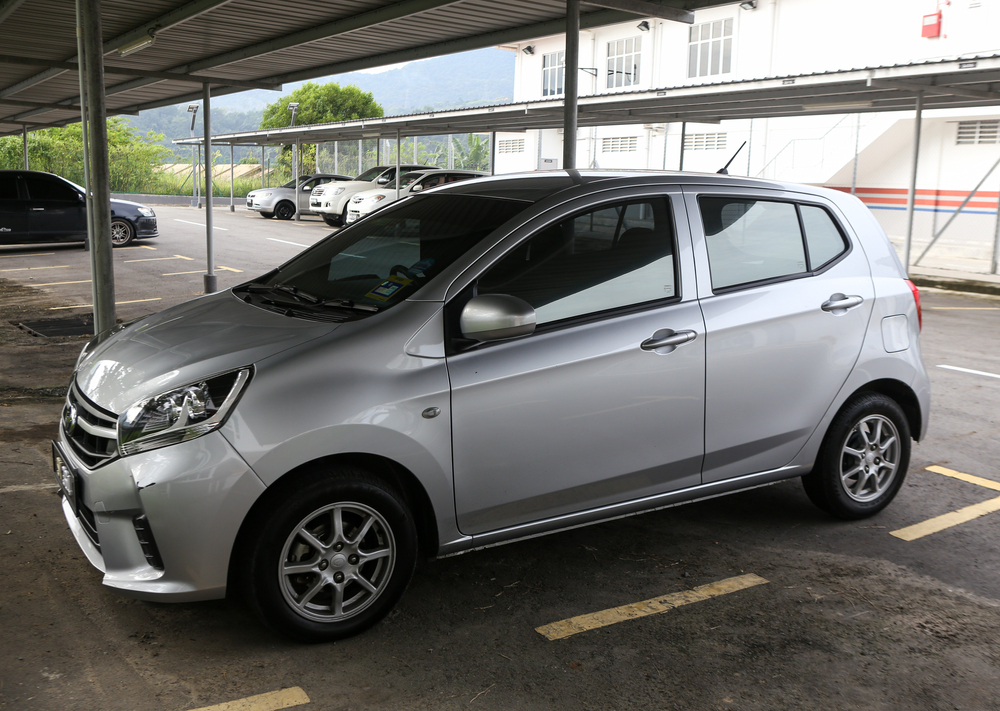 1. Perodua Axia – From RM23,367
Perodua Axia is the newest and most affordable car that can be purchased in Malaysia. Starting from RM23,367 for the E variant up to RM41,427 for the highest variant, the Axia AV.
The offered colors are Sunrise Orange, Lava Red, Midnight Blue, Glittering Silver, and Ivory White.
One of the advantages of the Axia is that it is very easy to handle due to its small size. With its small size, it is ideal for fresh graduates who have just started working or individuals who have just obtained their driver's license. Not only that, but the Axia is also known as one of the most fuel-efficient car models with an estimated fuel consumption of around 4.6 liters/100km. The most fuel-efficient car model!
Refer to the table below for detailed information on the Perodua Axia's specifications:
Variant
E
G
GXTRA
Price

RM23, 367

RM32, 495

RM33, 940

Monthly Installment

RM247/month (9 years)

RM344/month (9 years)

RM359/month (9 years)

Mechanical

1.0L VVT-i DOHC
998 cc N/A, 3-Cylinder

67 hp @ 6,000 rpm

5MT

4.4L / 100KM

Exterior

Steel rims 14″
Halogen front headlights
LED rear lights

14″ Alloy Wheels
Rear Wiper
Electric Side Mirrors

Electric side mirrors can be folded
Rear fog lamp
Driver's seat height adjustment
Anti-theft hook

Interior 

Solar and security tinted windows
SE fabric upholstery
Audio system with USB and
Bluetooth
Smart entry and push-start button

Steering wheel audio control
Full screen display

Semi bucket seats
Chrome package
Fabric upholstery

Safety

Advanced safety assist
Pre-collision warning
Pedestrian detection braking
Forward movement
Incorrect pedal control prevention
Reverse camera
Variant
SE
AV
STYLE
Price

RM37, 515

RM41,427

RM37, 515

Monthly Installment

RM397/month (9 years)

RM438/month (9 years)

RM397/month (9 years)

Exterior

Front fog lamps
Side mirror signal lamps

14-inch two-tone alloy rims

Unique bumper and grille
Black body coating
Clear lens tail lamps
Smart key entry

Interior

Tinted solar & security windows
Audio system with USB and Bluetooth
Push start button

Steering audio control
Touch screen display

Semi-bucket seats
Chrome package
Denim-style fabric upholstery

Safety

Advanced safety assist
Pre-collision warning
Pedestrian detection braking
Forward collision warning
Wrong pedal control
Reverse camera
The best variant of the Perodua Axia depends on individual needs. However, if safety is a top priority, the AV variant is the best choice due to its more complete safety features compared to others. This variant is equipped with Advanced Safety Assist (ASA) 2.0 technology, which consists of four basic functions: pre-collision warning, pre-collision braking, front departure alert, and pedal misoperation control.
This variant is also the only one that comes with a reverse camera, which is a convenience that greatly helps drivers, especially when parking. Not only that, the AV variant also offers more comfort features compared to others, such as audio control buttons on the steering wheel. If you like listening to the radio, these buttons on the steering wheel are very helpful. But if you don't like it, it's okay not to use them.
However, if you have a tight budget, the E variant is also adequate. As long as it can take you from one place to another safely. For additional information, you can click on this link to the official Axia website.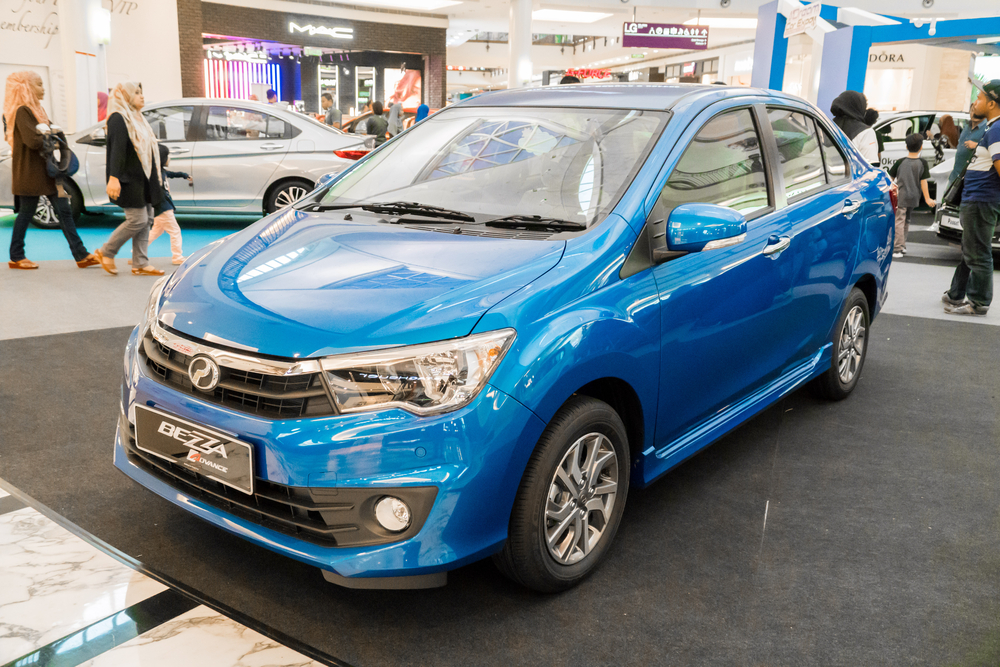 2. Perodua Bezza – From RM33,456
The price of the Perodua Bezza starts from RM33,456 for the G manual variant up to RM48,356 for the highest variant of Bezza, which is the AV. The Perodua Bezza car is also no less impressive on the road. Many young generations who have just started working choose the Perodua Bezza as their first car. But why? Is it just because it's a cheap car? These are the advantages and disadvantages of the Perodua Bezza.
Advantages:
Efficient fuel consumption
LED headlights for all variants
The cheapest sedan that offers AEB
Disadvantages:
Steering column cannot be adjusted
Poor driving and handling
Low-quality infotainment system
Refer to the diagram below for more detailed specifications:
Variant 
1.0L
G Manual
G Auto
Price

RM33, 456

RM35,391

Monthly Payment
RM354/month (9 years)
RM375/month (9 years)
Mechanical

998cc naturally aspirated 3-cylinder engine
67 hp @ 6,000 rpm
91 Nm @ 4,400 rpm
5MT
4.4L / 100KM

Exterior

14″ alloy rims
LED reflector headlights
LED combination taillights
Side mirror turn indicators

Interior

Bluetooth

Safety

ABS and EBD
Two front airbags
ISOFIX
ASEAN NCAP 4-star rating
Variant
1.3L
X
AV
Price

RM42, 551

RM48, 356

Monthly Payment

RM450/month (9 years) 

RM512/month (9 years) 

Mechanical

1.329 cc N/A 4-cylinder engine
94 hp @ 6,000 rpm
121 Nm @ 4,000 rpm
4.5 L / 100KM

Exterior

Available in Garnet Red color
Front corner sensors
Front fog lamps
15″ two-tone alloy rims

Interior

Steering wheel with audio controls
Touchscreen display with navigation and Mirrorlink
Reverse camera

Safety

Stability control
Hill-start assist

Advanced Safety (ASA) 2.0
From what can be seen, Perodua offers the Bezza in two different engine types, namely the 1.0L and 1.3L. It is commonly known that the engine plays a significant role in the overall driving experience. For the 1.3L engine, it has an output of 94 hp which is higher compared to the 1.0L engine. This power is also able to provide comfort to the driver even when the car is fully loaded with passengers. Not only that, the 1.3L model also has an efficient fuel consumption rate of 4.5L/100km.
However, the engine is not the only factor in the decision-making process. Safety aspects also need to be given serious consideration. From the table above, the AV variant is seen to be complete with ASA 2.0 as an addition to various safety features available on the lower variants.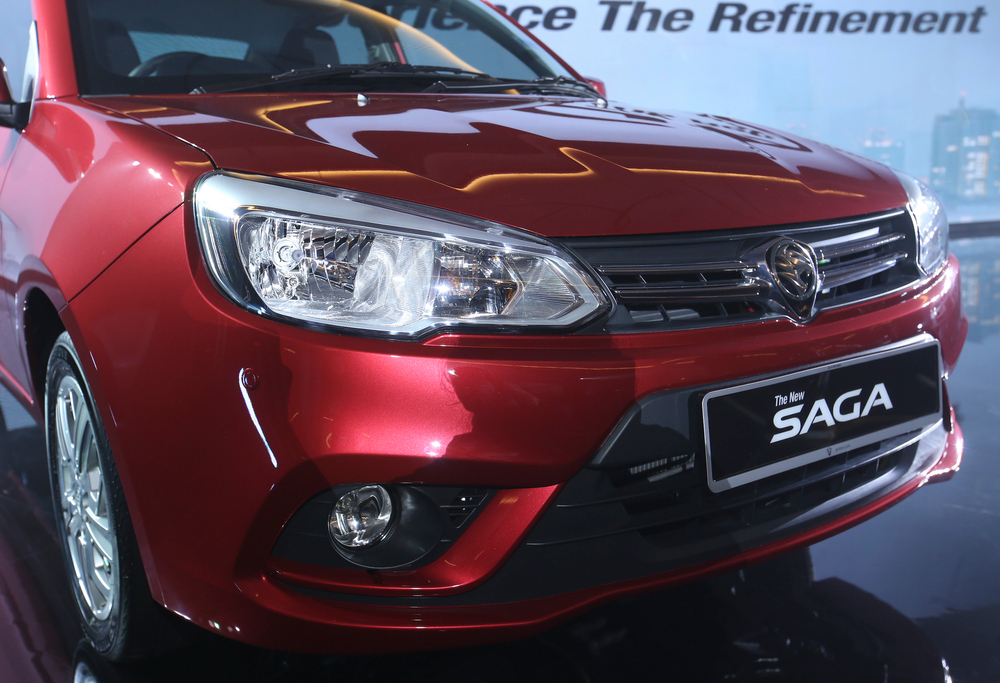 3. Proton Saga – From RM33, 954
The Proton Saga starts from RM33, 954.59 for the lowest variant up to RM41, 147.52 for the highest variant. Saga is always a popular choice as it is an affordable and comfortable car to drive.
One of the important features of all Proton Saga variants is its comfortable seats even for long journeys. For the driver, the steering wheel can be adjusted according to comfort.
What's interesting is that all variants of this car are equipped with Bluetooth, from manual to premium variants. Refer to the chart below for more information on specifications:
Variant
Standard MT
Standard AT 
Premium AT
Price

RM33, 954.59

RM37, 037.27

RM41, 147.51

Monthly Payment
RM356.66/month (9 years)
RM391.58/month (9 years)
RM435.09/month (9 years)

1332 cc 4-cylinder in-line 16-valve
DOHC, VVT
94 hp @ 5,750 rpm
120 Nm @ 4,000 rpm
5MT
Hydraulic Power Steering

14″ Steel Rim
Halogen Headlamps
Electric side mirrors with LED signal (with manual folding)

LCD segmented MID
ECO driving assist
Standard audio system
Bluetooth
Two speakers
One USB data port
Steering adjustment

1 USB data port & 2 charging ports

Audio and call controls from steering
Trunk light
7-inch touch screen monitor audio system
Smartphone connectivity
4 speakers

Front SRS airbag
ABS, EBD, BA
Seatbelts with pretensioners and load limiters
ISOFIX
Rear parking sensor
Engine immobilizer & anti-theft alarm

ESC, TCS, HHA
Front parking sensor
Reverse camera
If looked at carefully, the price difference is not significant for the additional comfort that is quite significant when compared between the regular automatic variant (Standard AT) and the extraordinary automatic (Premium AT). With only a price difference of about RM4k, buyers can get better safety and comfort technology.
In terms of safety, the Proton Saga Premium AT is equipped with Electronic Stability Control (ESC) System. This system is very important to prevent the car from skidding. It is definitely worth it if you want to get this Proton Saga as your first affordable car. The colors offered are Snow White, Armour Silver, Jet Grey, Rosewood Maroon and Ruby Red.
Which Car Is the One for You?
So, Perodua Axia, Perodua Bezza, or Proton Saga? The decision depends on you. But it's important to remember that not only the monthly car price should be emphasized, but also the car maintenance cost. This is because the car needs to be maintained regularly to get optimal driving performance. However, with a new car, you can get a maintenance warranty offered by the dealer, usually for three to five years. However, if you get services from an external mechanic, the maintenance warranty will be automatically voided. Maintenance or repair costs outside may be more expensive or cheaper depending on the mechanic you go to.
Hopefully, it will be useful! Need to renew car insurance and road tax? Just renew with Qoala. Get the best car insurance with the Qoala platform. Easy and fast!