Back pain during driving is a common issue, especially during long drives or traffic jams, and can lead to accidents. The pressure on the spine while driving is greater than during other sedentary activities, and sitting in the same position for a long time can cause discomfort. Emphasizing driving comfort, such as adjusting the seat and taking breaks, can reduce the risk of back pain and make driving more enjoyable.
How to Reduce Back Pain While Driving (Pre-Driving)
According to the International Archives of Occupational and Environmental Health, drivers are usually exposed to whole-body vibration. And the risk of back pain during driving is twice as high as for other people. Back pain during driving may not seem to have a significant impact now, but in the long run, you will see the impact. At that time, you won't even be able to do any slightly heavy activities.
1. Position of Your Car Seat
Before driving, you need to adjust the position of your car seat to prevent back pain while driving. Adjust the seat position upright with the recommended seat angle between 100 to 110 degrees.
Once the car seat is in the correct position, you can fully lean your back on the car seat.
Why is it important to get the right position?
When the car seat position is incorrect, back pain can occur. If the car seat angle is more inclined than recommended, the head and neck posture will become uncomfortable, which can affect your driving quality.
Not only that, but the position of the seat, whether it is backward or forward, also plays a role. Make sure the distance between the seat and pedals is not too close or too far. It should be just right.
An incorrect distance can cause discomfort. Don't forget to ensure that your knees are slightly bent around 90 degrees when pressing the clutch or brake pedal.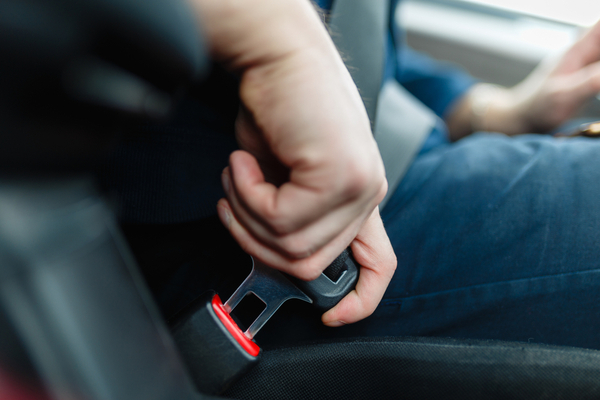 2. Steering Wheel Position, Headrest, and Side Mirrors
Make sure your car seat is in a comfortable position and close enough to the steering wheel to ensure that your upper body posture does not bend while driving. You should be able to rest your wrists on the steering wheel without having to move or bend your body forward.
The position of the steering wheel, whether it is low or high, depends on your comfort.
For the headrest, adjust the position so that the middle of the cushion is right in the middle of the back of your head. The side mirrors should also be adjusted accordingly so that you can see the rear view by just moving your eyes without having to move your body. This method can also help you practice proper sitting habits and reduce back pain.
3. Lumbar Support
For even greater comfort, you can purchase additional car seat accessories such as car cushions (lumbar support cushions). Many car seats today have non-ergonomic designs, insufficient lumbar support, and are not suitable for body shapes.
Using accessories like this can help provide relief and reduce back pain, especially during long drives or long journeys. You can also make your own lumbar support by rolling up clothes and placing them on the back of your body.
4. Empty Your Back Pocket
Before you sit down, make sure your back pocket is empty. Your wallet, cellphone, AirPods, power bank or anything else must be removed from your back pocket. The reason is that these objects can cause an imbalance in the nervous, skeletal, and muscular systems. When there are objects in our pockets while driving, our posture becomes asymmetric while sitting and can cause damage to the main nerves in the hip area.
This may not have a significant impact initially, but it can worsen over time, affecting the quality of our spinal health.
How To Reduce Back Pain While Driving (While Driving)
Below is the tips on how to reduce back pain that you can practice:
1. Rest for a While at Rest and Relax (RnR)
Usually, sitting in one position for a long time can cause back pain and muscle cramps. If you have to drive far or get stuck in traffic, it is recommended that you plan your trip and stop at R&R areas. By stopping at these areas, you can at least get out of the car and do some quick stretches.
Do some quick stretches such as standing up, walking, bending forward, and leaning back to reduce pressure on your spine. When you do these quick stretches, it can help stimulate blood circulation that supplies nutrients and oxygen to your spine.
2. Turn On the Seat Heater
If your car seat has advanced features like heated seats, it can really help if you activate the seat heating feature throughout your journey. It can be said that this feature is actually similar to the heating pad that some people have at home.
This feature can help ensure that our blood flow runs smoothly, reducing pressure on the joints and muscles throughout the drive. Today's modern cars are mostly equipped with car seats that can be heated, which can help reduce muscle cramps and relieve pressure in the back.
But, not everyone has a car with this seat heating feature. Don't worry guys, if necessary, you can bring a heat pack if you have to drive far. Wrap it with a towel and place it behind your back to provide a little relief while driving.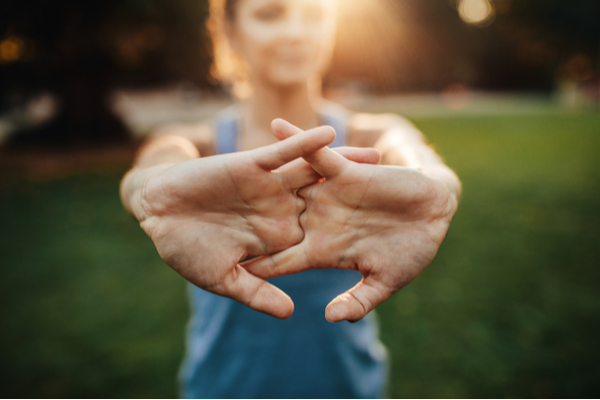 How to Reduce Back Pain While Driving (Post-Driving)
After driving for a long distance, it's understandable that we would want to lie down and rest. But actually, we are advised to do some simple stretches first to reduce the risk of back pain after a long drive.
Before Taking A Break, Let's Do Some Stretching First!
Stretching doesn't have to be heavy. Simple stretches like brisk walk, side pull, thoracic rotations, roll downs and so on can help reduce the risk of back pain. Easy stretches can help improve blood circulation and reduce the impact of back pain. You can try the following exercises for back pain:
Grasp your hands with your fingers crossed between your left and right palms, then stretch both hands upwards, to the left, to the right and forward. Make sure you are standing upright to relieve pressure on the spine. Perform this stretch for 3 sets, 10 seconds per set.
Lower your head, then turn your head from right to left/left to right for at least 5 seconds, three times.
Raise your shoulders up and down slowly. Inhale and exhale at the same time.
Rotate your torso to the left and right and hold for 10 seconds – if you hear a 'crack' sound during this step, it is part of the stretch.
In addition, if you want to get the best health insurance, visit the Qoala website for more information. Qoala provides a range of medical and health insurance products from some of the best and most popular insurance companies in Malaysia with easy, fast, and secure processes. Additionally, you can also get car insurance, motorcycle insurance, and home insurance at Qoala!