As a highway user in Malaysia, you need to know the toll rates for the highways you use to help you plan your expenses and journeys. Basically, the toll charges for each highway vary depending on the highway concession and vehicle class.
How to Check the Current Highway Toll Prices Online in Malaysia 2023
It is advisable to check the toll rates before starting your journey to your destination. You can check the highway toll prices online for your convenience. Apart from helping you plan your travel budget, it can also prevent incidents of insufficient card balance when paying tolls.
Here are the steps to check toll prices online in Malaysia to facilitate your expense planning and travel back to your hometown:
Visit the official website of the Lembaga Lebuhraya Malaysia.

Go to the Toll Calculator section.

Select the highway for your journey. There are many highways you can check, such as PLUS highway toll prices (North-South Expressway), LPT or LPT2 toll prices (East Coast Expressway), KL-Karak toll prices, and others. For example, if you want to start your journey from Temerloh to Kuala Terengganu using a closed toll system*.

Select the East Coast Expressway Phase 1 (LPT1) from the provided dropdown.

Then, select the Entry Plaza (current location) and select the Exit Plaza (destination location).

The toll price for LPT1 will be displayed for your reference.

If the highway you want to pass through uses an open toll system**, you only need to select the Entry Plaza and click the Submit button to know the toll price.
In addition to checking toll prices, you can also find information on current traffic conditions on highways in Malaysia.
*Closed toll system highways require you to pay a toll based on the distance and/or time you exit, such as the North-South Expressway (Lebuhraya E6) and the Central Link (Lingkaran Tengah or ELITE).
**Open toll system highways require you to pay a fixed toll rate, such as the Cheras-Kajang Expressway (Lebuhraya E7) and the Guthrie Corridor Expressway (Lebuhraya E35).
Toll Prices: Toll Payment Methods in Malaysia
Highway users can now use debit cards or credit cards for toll payments on several major highways in the country starting no later than September 2023. The implementation of the open payment system is an initial initiative toward the Multi-Lane Fast Flow (MLFF) system, which is being actively pursued.
However, for now, highways in Malaysia only accept the following toll payment methods:
1. Touch 'n Go Card
The Touch 'n Go Card is a prepaid card that utilizes contactless technology. In Malaysia, the Touch 'n Go Card is one of the most popular toll payment methods and can also be used for parking fees.
Additionally, the Touch 'n Go Card can be used for major public transportation payments in the Klang Valley, such as Monorail, LRT, KTM, MRT, and buses.
Touch 'n Go Reload Locations
You can reload your Touch 'n Go Card at over 14,000 reload locations throughout Peninsular Malaysia, including:
Self-service kiosks.

Petrol stations.

Pharmacies.

Hypermarkets.

Retailers.

Minimarts/Supermarkets.

Post offices.

ATMs.

Highway customer service counters.

Other locations.
2. Smart Tag Touch 'n Go
Smart Tag Touch 'n Go refers to the Toll Network Automatic Payment Systems. It is an onboard device for electronic toll collection used in conjunction with the Touch 'n Go Card.
It utilizes infrared communication connected to an infrared receiver located at the top of toll plazas. This device allows users to pass through Smart Tag lanes without stopping, with a maximum reading distance of 1.5 meters.
3. RFID Touch 'n Go
In general, the RFID system in Malaysia is a new toll payment system that will replace the use of the Touch 'n Go Card and Smart Tag Touch 'n Go. The RFID sticker uses radio frequency identification (RFID) technology attached to the vehicle's front windshield or headlights.
When your vehicle passes through the toll plaza lane, the scanner scans the radio frequency on the RFID tag, and the payment will be deducted from your registered Touch 'n Go eWallet account. This technology allows you to pay tolls without stopping your vehicle.
Unlike the Smart Tag Touch 'n Go, the RFID tag does not require a device and cannot be transferred between vehicles. This means you will need multiple stickers if you have more than one vehicle.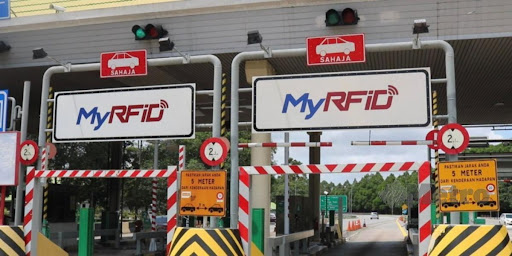 Additionally, if you want to renew your car insurance, you can consider Qoala for more savings. Qoala is the best insurance comparison platform in Malaysia with an easy, secure, and fast process. You can compare quotes from various top insurance companies in Malaysia and receive free quotes quickly