Recently, the popularity of gold investment has been on the rise, and you may have noticed that some of your acquaintances have started to get involved in this type of investment. Is it time for you to follow the trend and start investing in gold? This article will explain the advantages of gold investment, the types of gold investment you can try, and the factors that influence the price of gold.
What Is Gold Investment? Benefits of Gold Investment
Firstly, what is gold investment? Apart from being a form of jewelry, gold is also an alternative investment that has a reputation as a high-class asset class by investors worldwide. In brief, gold investment is a popular choice among investors because gold is an asset that is usually protected from inflation or economic downturns.
For centuries, gold has been recognized as a source of human wealth, and it has also been used as a currency at some point in history. Nowadays, many people like to save money in the form of gold investment.
3 Benefits of Gold Investment
There is an increasing number of new investors who are beginning to dabble in the world of gold investment. Here are three benefits of gold investment that you should know
Stable Value and Able to Fight Inflation
Traditionally, the value of gold tends to remain stable or increase during times of high inflation. Due to this, many investors choose to invest in gold to reduce the risk of losses during economic downturns. For example, during the COVID-19 lockdown in March 2020, gold investment activities increased even though the economy was experiencing a crisis.
However, this is not a guarantee as the correlation between inflation and gold prices may not always be the same. For example, there is a possibility that the value of gold may decrease when inflation rates increase.
Easy-to-Liquid Asset
Liquidity is one of the advantages of investing in gold. Whether you invest in gold online or in physical form, you will find that selling gold is not difficult. Suppose you suddenly need money and find that your savings are insufficient. In that case, you can pawn or sell your gold to get cash.
You will also find that gold is easy to sell because there are always buyers looking for physical gold or the gold you own in digital form. Therefore, it will not be a problem if you want to sell gold quickly.
Various Investment Options for You to Try
In addition to investing in physical gold, you can also choose to invest in gold online. For physical gold investment, the options include gold jewelry, coins, or gold bars. For online gold investment, your options are digital gold, Gold ETF, or Gold Mutual funds.
Each investment option has its advantages. You are free to choose according to your investment and savings policies and risk tolerance.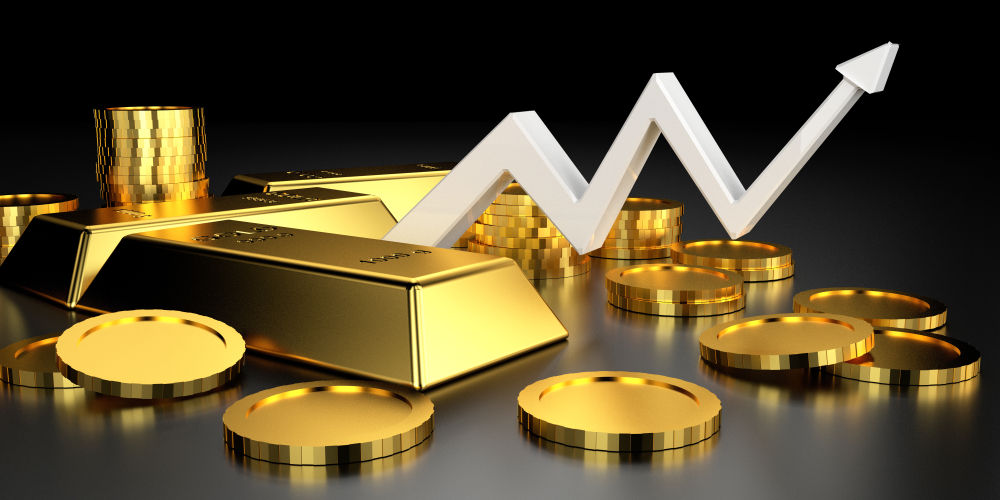 4 Types of Gold Investments in Malaysia
Many experts believe that gold is a safe investment and is highly suitable for new investors out there. You can start investing through four types of gold investment that you can try in Malaysia:
1. Physical Gold
Physical gold investment is still a popular choice among investors despite the availability of digital gold investment options. You can purchase physical gold in the form of gold bars, gold coins, and gold jewelry. Here are three types of physical gold that you should know:
a. Gold Bar
If you were to ask any experienced investor, most of them would recommend gold bars as the number one option for physical gold investments. Gold bars are also easy to store due to their large size, and you can find gold bars in sizes ranging from 25g to 1kg. The price of a gold bar can reach hundreds of thousands of ringgit, making it an ideal investment if you want to sell it at a high price.
However, gold bars do have their own drawbacks due to their high value. For example, suppose you want to sell a 1kg gold bar worth RM250,000. As long as you cannot find a buyer willing to pay the asking price, you should continue to keep the gold bar. If you agree to sell at a lower price than the market value, you will be the one who suffers a loss.
| Pros | Cons |
| --- | --- |
| Potentially high profits | Risk of theft when stored at home |
| Lower costs compared to gold | High price may make it difficult to sell |
| Easy to store at home | Need to pay storage fees for safe deposit boxes |
b. Gold Coins
Compared to gold bars, gold coins are much lighter with weights ranging from 2.5g to 25g of pure gold. Why buy gold coins? For new investors, this is an ideal option because it is easier to buy and sell due to its reasonable and affordable price. The price of a single gold coin ranges from hundreds to thousands of ringgit.
Did you know that there are also gold coins that are valued higher because they are individually minted? Due to this, there are also gold coins that can cost hundreds of thousands of ringgit because of their rarity and purity.
Pros
Cons
Easy to store
Risk of theft if stored at home
Ideal choice for new investors
Higher price or cost depending on design
Easy to sell
Need to pay storage fees for safe deposit boxes
Value increases if difficult to find or limited
c. Gold Jewelry
Gold Jewelry is not only wearable or given as a wedding gift, but you can also obtain it for the purpose of gold investment. In terms of price, gold jewelry is in the range of hundreds to thousands of ringgit.
Before you buy gold jewelry, it is recommended to check the amount of gold karat you want to buy. This is because not all gold jewelry is made of pure gold. For example, there is gold that has been mixed with other materials such as silver. In addition, when you have gold jewelry, you need to take good care of it so that it is not damaged or scratched because the value of the gold may decrease if there is any form of damage.
| | |
| --- | --- |
| Pros | Cons |
| Can be used as an accessory | Low resale value and cannot be sold at high prices |
| Easy to purchase | Risk of theft as it needs to be stored at home |
| | High cost of production and craftsmanship |
2. Gold Investment Account
In today's era, you can invest in gold digitally by opening an investment account at a bank. Here are some of the banks that offer gold investment account opening services:
Maybank;
CIMB Bank;
HSBC Bank;
Public Bank;
Kuwait Finance House.
How much do you need to open a gold investment account? The answer depends on the bank you choose. For example, some banks only require a minimum initial deposit of 1g which would cost you around RM250. You can withdraw your investment in various forms such as cash, physical gold or transfer it to your savings account.
A gold investment account is different from other investment accounts such as ASB account because you will not receive any interest or dividends. In addition, this investment is not insured by the Deposit Insurance Corporation (PIDM). Some banks may also charge fees for conversion and services.
| Pros | Cons |
| --- | --- |
| Easy investment in pure gold | Not insured by PIDM |
| No need to store physical gold | No dividend returns |
| Easy to sell when you need money | Need to pay conversion fees |
| | Need to pay service fees if below minimum balance set by bank |
3. Gold Stocks
You can also invest in gold mining stocks. When you invest in this method, you are not buying gold, but actually investing in a company that is involved in gold mining. As a result, the return you will receive is in the form of dividends and the amount you will receive depends on the company's annual performance.
One important thing to note about gold mining stocks is that they are not only affected by the current performance of gold, but also by the performance of the stock market and the company itself. For example, since August 2020, the performance of most gold mining companies' stocks such as Poh Kong Holdings Berhad and Borneo Oil Berhad has declined. In other words, the return on gold mining stocks is uncertain and more risky compared to other investment options.
Pros
Cons
Not solely dependent on gold performance
Inconsistent or uncertain performance compared to others
No need to store physical gold, low risk of theft
Dependent on company performance
Low public investment that follows stock prices
More risky compared to other gold investment options
Easy to sell if you need money
4. Gold ETF
The fourth and final option discussed in the article is investing in Gold ETFs. If you are a new investor looking to start investing in gold, this is a good option as you can control and reduce your investment risks.
For example, let's say you have invested in several high-risk portfolios that are influenced by the US dollar, you can reduce your risk of loss by making a conversion to minimize your risk or loss. The concept is somewhat similar to gold mining stocks, you can only invest in ETFs backed by gold. Generally, this is one type of commodity ETF that depends on the performance and current value of the gold price.
You can make a Gold ETF investment through Bursa Malaysia. To do so, you need to open a CDS account and a trading account to start buying and selling stocks on the platform.
Pros
Cons
Can track current gold performance
Need to pay broker fees
Easy to sell if you need cash
Need to open CDS and Trading accounts
No need to store physical gold, low theft risk
Affected by the volatile stock market, making it risky
No storage costs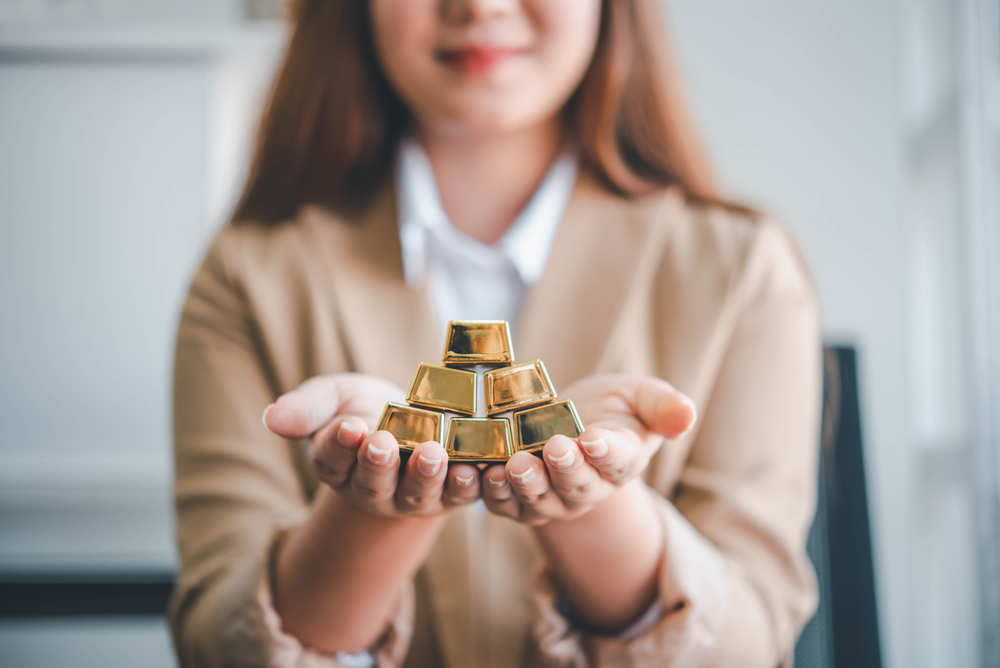 Are You Ready to Make a Gold Investment?
In conclusion, gold investment is an investment option that you can consider. Although its price fluctuates up and down, in the long term, you can achieve the desired returns. Gold also has high liquidity, which means you can sell your gold at any time when you need money.
You may be wondering, when is the right time to start investing in gold? This question can only be answered by you. Make sure you are ready with sufficient knowledge and understanding of gold. Determine your investment objectives because this will help you make decisions when you invest later. For Muslims, you need to pay zakat on gold when you own it.
In addition, if you are planning to buy the best car insurance or affordable motorcycle insurance, visit Qoala's website for further information. Qoala provides several insurance options from several of the best insurance companies depending on your needs and budget.