Car wipers are definitely a must-have for every car, regardless of whether it is a Tesla or a Proton car or a Perodua car. According to a study conducted by Bosch Automotive Aftermarket Malaysia (Bosch AA), as many as 94% of drivers in Malaysia consider wipers to be one of the important components of a car, which is a significant increase compared to 70% in 2018.
Car wipers are essential for one main purpose, which is to help improve visibility while driving in the rain and to remove rainwater residue, dirt, dust, and other debris. According to the Chief of Traffic Investigation and Enforcement Department (JSPT) Kuala Lumpur, Assistant Commissioner Zulkefly Yahya, the rate of accidents increases during bad weather such as heavy rain.
Car Wiper: 5 Things You Should Know
There are many factors that can cause accidents during heavy rain. One of them is the wet road surface. When the road is wet, the vehicle's tire grip decreases, which in turn increases the accident rate during rain in Malaysia.
In addition, other technical failures such as warning lights, brake lights, car wipers, and rear lights not functioning contribute to road accidents. This is because rainy weather limits visibility, especially at night. That is why it is crucial for every car to have well-functioning wipers.
1. Types of Car Wipers
Basically, car wipers are important for clearing water from the surface of the car's front windshield. Therefore, we need to consider the type of blade, size, and design of the car wiper that is suitable to optimize its function.
Here are the types of car wipers that you need to know:
Conventional Car Wipers
Conventional car wipers are the most common type of wiper that is installed in cars. However, lately, many modern cars are equipped with flat wipers. Nevertheless, conventional windshield wipers are more durable and of higher quality. That is why you can still find conventional car wipers that can last a long time in the market.
Flat Car Wipers
As we mentioned earlier, many modern cars are equipped with flat wipers. The interesting thing about this type of wiper is that it has a metal flexor that supports the rubber element with a full integrated spoiler. Flat car wipers also use the pressure generated by the airflow to produce a more aerodynamic shape that is flatter and reduces wind noise.
Hybrid Car Wipers
Hybrid windshield wipers combine both conventional and flat windshield wipers. They feature the aerodynamic design of flat windshield wipers with the performance of conventional windshield wipers. This type of windshield wiper maintains the position of the rubber blade on the windshield for smoother and quieter movements, especially at high speeds.
2. Car Wiper Sizes
The suitable size of car wipers actually depends on the type of car you have. If you're not sure, you can measure the size of your existing wipers or refer to the manual to avoid choosing the wrong size for your car.
There are many different sizes of car wipers available on the market. It's important to choose the right size because if the rubber blade is too long, it will collide with the other blade, and if it's too short, it won't clean the entire surface of your car's windshield, affecting your visibility.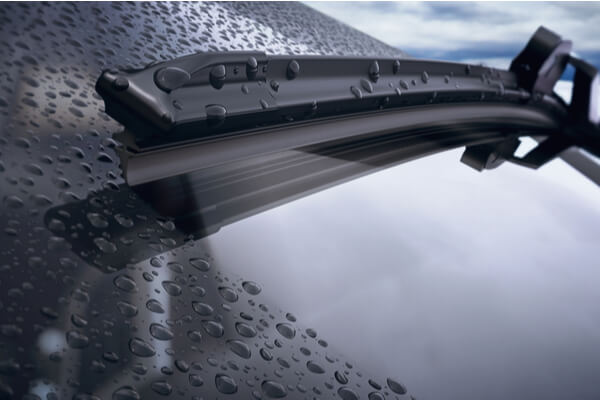 3. Car Wipers: Silicone or Rubber?
Hmm, even choosing the material for car wipers needs to be done correctly. However, this is subjective. Many people believe that car wipers made of silicone are better and more durable. However, this doesn't mean that rubber wipers aren't of good quality and aren't effective.
Basically, the quality and durability of a product depend on the individual user's maintenance and frequency of use.
| | |
| --- | --- |
| Regular (Rubber) Car Wiper | Silicone Car Wipers |
| Easy to tear, wear out, get damaged or stick to the windshield. | Not easy to tear, wear out, or stick to the windshield. |
| Rubber dries out quickly and is not flexible enough to effectively clear water from the windshield. | More environmentally friendly and durable. |
| Leaves streaks of water behind. | Provides better and more thorough water wiping. |
| Impairs visibility, especially in heavy rain. | The windshield is less likely to become blurred, especially during heavy rain. |
| Produces loud noise, particularly at high speeds. | Wiper movement is smoother. |
| Needs to be replaced at least every six months. | Saves costs, does not require frequent maintenance. |
| The price of regular rubber wipers ranges from RM10-RM50 depending on the brand. | The price of silicone wipers is sold at a higher price ranging from RM100-RM200 depending on the brand. |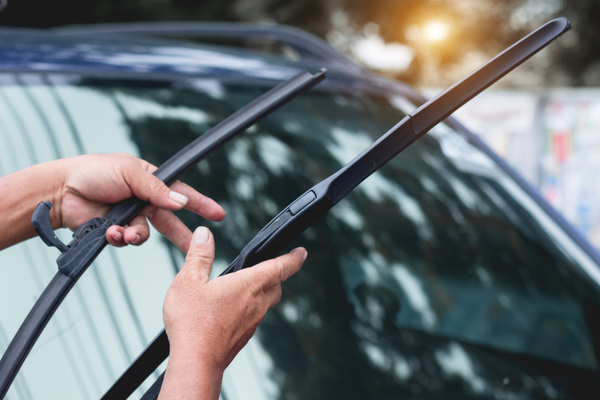 4. Tips to Make Your Car Wipers Last Longer
To ensure safe driving, there are five easy tips to follow in order to extend the life of your car wipers and get the best value for your money.
Choose a Trusted Brand
There are many brands of wipers on the market with varying prices. Expensive does not always mean good quality, and cheap does not always mean poor quality. However, for those who prioritize safety, it's important to look for a brand that is truly trusted, where the quality, durability, and lifespan of the wipers have been proven effective. Trusted brands have invested a lot in research to ensure their wipers can withstand any type of weather and have superior wiping performance for a long period of time, thereby improving safety on the road.
Rain Repellent Coating is not a Replacement for Wipers
One common misconception is that a rain repellent coating can replace wipers and is rarely used. However, few people know that the use of this coating can actually be more dangerous because it can cause uneven wear of the wipers and affect the quality of wiping and the lifespan of the wipers.
In addition, the use of a rain repellent coating can cause fogging on the windshield, which takes a long time to disappear every time the wipers are used, making it more difficult to drive, especially at night. As a comparison, a windshield without this coating can quickly remove the fogging within seconds every time the wipers are used.
The Front Mirror Must Stay Clean
Factors such as heat, dust, and debris can affect the performance of the mirror and the lifespan of the wiper itself. Good practices such as ensuring the front mirror stays clean, checking the wiper before and after the rainy season to see wear and tear, and disposing of debris can prolong the wiper's lifespan, produce cleaner wipes, and provide more value for money over a long period.
Another misconception is the habit of lifting the wiper arm in hot weather to prevent the wiper blade from being damaged by excessive heat. This habit can have an effect on the wiper arm spring and can cause incomplete wiping, as well as increase repair costs compared to the practice of regularly checking and replacing the wiper blade.
Check the wiper blade every six months
One special tip for new drivers is to get into the habit of checking the wiper blade every six months for signs of hardening, excessive wear and tear, tearing, or cracking. These signs are an indication that your car's wiper needs to be replaced immediately.
Replace the wiper if these signs are present;
Like other vehicle components, wipers will also experience wear and tear after regular use, environmental factors that can affect the chemical structure of the wiper blade, and continuous pollution caused by dust, leaves, and insects.
Also, be sure to check for signs on the mirror surface such as streaks, uneven wipes, and noise during use.
5. Tips for Car Wiper Care
To ensure that your car's windshield wipers last longer, there are several maintenance aspects that need to be followed:
Clean the wiper blades regularly to prevent any dirt from sticking to them;
Raise or lift the wiper blades if the car is parked in an open parking area or under direct sunlight;
Clean the windshield so that the dirt on the surface does not damage the wiper blades;
Use a safe and non-side-effect windshield cleaning fluid or agent that does not affect the wiper blades or windshield.
That's all from Qoala's sharing. If you need to renew your car insurance and road tax, just renew with Qoala! Qoala is the best insurance comparison and renewal platform in Malaysia.