Is there fire insurance for your car? The situation of a burning car can occur at any time and anywhere due to treachery or accidentally such as an accident or wiring problem. When the car is on fire, many questions arise among vehicle owners whether or not the car can claim car insurance or not.
What Could Cause Your Car Car to Be on Fire?
Before discussing the process of car insurance claims, it is important for you to identify the cause of the car fire to avoid this situation. Although the situation of a burning car is rare compared to the missing car or the accident car, you are still advised to take precautions. Usually, vehicle fires are caused by five reasons as follows:
Overheat cars until burning;
Abandonment of car or car service aspects;
Short circuits in the car electronic system (short circuit);
Accidents due to negligence;
Design problems.
Can a Burning Car Claim a Car Fire Insurance?
In the event of a vehicle fire, the vehicle owner is certainly the most significant impact. In addition to thinking about the costs to bear, the owner may worry about whether the car insurance claim involved in the fire can be made.
Basically, yes, you can make a claim if your car is on fire. However, it is subject to the type of car insurance policy you have. To make a car insurance claim due to accidental accidents, you must comply with the following aspects:
1. Your Car Is Covered by Comprehensive Car Insurance or First Party
You can claim if your car is covered by comprehensive car insurance. Basically, comprehensive insurance offers the most comprehensive protection to policyholders. It provides protection to vehicles in the event of damage, fire and theft as well as offering third parties protection.
In addition to fires, third-party insurance also protects incidents that cause losses and damage to property as follows:
Collision or overturned by accident, mechanical damage, wear and tear;
Damaged as a result of an object (subject to a particular exception);
Fire, explosion or flash;
The windshield or the back of the broken, the window or sunroof is damaged;
Cars damaged due to broken or theft;
Treacherous acts.
2. Car Covered by Third Party Insurance, Fire and Theft
If you have third -party insurance coverage, fire and loss, you can also claim in the event of a fire. However, if you have a third party insurance policy only, then insurance claims cannot be made for burning cars.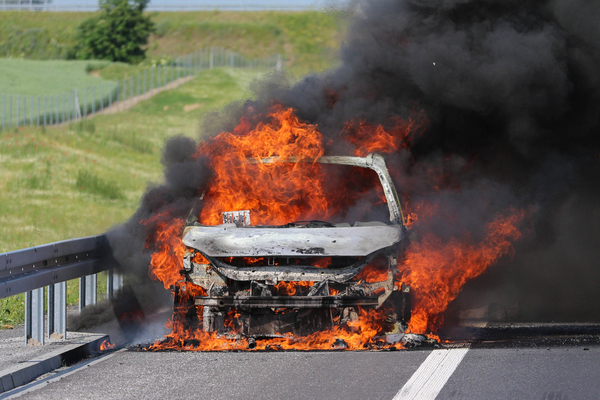 If the Car Is on Fire Because of Another Car, Can You Claim The Third Party's Insurance?
If your car is on fire due to other cars, you can still make insurance claims. However, it usually depends on the decision of the insurance company. In most cases of vehicle fires, insurance claims will be made on their own car insurance as the claim process is usually faster than the claims on the guilty.
Although insurance claims are made to your insurance company, you do not have to worry because your car's NCD eligibility will not be lost or affected at all. This is because the insurance will reclaim from the guilty insurance company and maintain the NCD rate of your car as usual. This process is known as a knock for knock claim. However, this claim can only be made if you are a comprehensive insurance policyholder.
How to Make a Car Fire Insurance Claim?
If you are eligible and would like to make a car insurance claim as a result of a fire, you can follow the following steps:
Take a picture of a damaged or burning car as a result of a fire;
Make police and fire reports within 24 hours;
Contact your insurance agent to submit the required fire claim form and supporting documents;
The insurance will take over the case and conduct an investigation;
Wait for the results of the investigation from the insurance, police and firefighters before receiving compensation.
Required Documents
The following is a list of documents needed to facilitate the process of burning car insurance:
Claim form;
Copy of Identity Card and Driver's Driver's License;
Copy of the car grant;
Police and Fire Reports;
A copy of the car loan agreement (if the car is still in debt).
Get a Comprehensive Insurance Coverage
Unfortunately it doesn't smell. Unexpected situations such as accidents or fire can occur at any time. Therefore, it is advisable to take safe steps by obtaining comprehensive car insurance coverage to enable your car to get proper protection.
Although basic car insurance helps you save money, but if you take into account the costs you need to bear in the event of a disaster, comprehensive car insurance purchases are more worthwhile and profitable. If you are looking for cheap car insurance, visit the Qoala website and compare the best car insurance from several popular insurance companies in Malaysia.