Kuala Lumpur, 22 December 2022 – It's that time of the year and Qoala is saying Y.E.S. Acronymed as Year End Sale, Qoala is offering discounts up to 35 per cent across its car, motorcycle and health insurance from 23 December 2022 to 3 January 2023.
The Christmas cum holiday-themed campaign, Qoala says Y.E.S. is saying yes to road trips, adventure and mindfulness as the world closes one chapter and opens another. Spreading the message of happiness, joy and peace, Qoala advocates affordable and easy access to insurance, a financial tool for improving lives and alleviating monetary burdens.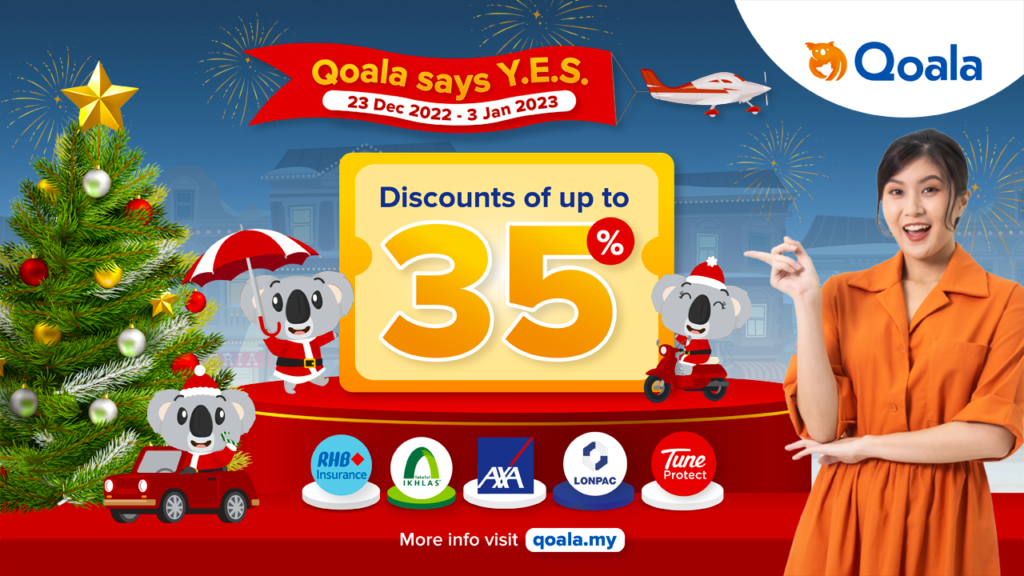 Akash Sharma, Head of Qoala Malaysia said "Qoala says Y.E.S. is our first campaign to include health, making it our biggest campaign to date. The high anticipation from both our customers and insurance partners warrants Qoala's mission of improving lives through accessible and affordable insurance ownership".
"We believe the newly added health offering will entice the public to easily own health insurance at a lower premium. As the year comes to a close, customers can also take advantage of the tax exemption for themselves, their spouse or their child's health insurance claim of up to RM3,000" he added.
The collaboration between its insurance and takaful partners, AXA (is now known as Generali Malaysia), Lonpac Insurance, RHB Insurance, Takaful IKHLAS and Tune Protect has made the campaign more auspicious through their exciting giveaways. Qoala's customers will stand a chance to win amazing prizes ranging from a holiday package to e-wallet top-ups worth up to RM12,800.
Qoala, being the country's most comprehensive insurance marketplace means it has to continuously innovate in providing the best value to its customers. The participation of its insurance and takaful partners has allowed it to do so, as reflected through this campaign.
Visit qoala.my to compare and own insurance protection at an affordable price, today!
---
About Qoala
Qoala is a startup in insurance technology (insurtech) with a mission to democratise insurance through a combination of new product development supported by machine learning-based claim processes. Qoala operates in three countries; Indonesia, Malaysia, and Thailand offering various insurance and takaful protections ranging from cars, motorcycles, property, personal accidents, travel, and health that can be accessed quickly, easily and transparently through the Qoala application or website.
Media Contact
Jeremy JEESANDARAN | PR Associate, Qoala Malaysia | jeremy@qoala.my | +6016 312 7360