Kuala Lumpur, 16 February 2023 – Hopping into the Year of the Rabbit, Qoala Malaysia held Qoala 888 in conjunction with the Chinese New Year celebrations. The campaign from 16 to 24 January 2023, offered discounts of up to 38% on car, motorcycle and health insurance and a lucky draw.
Qoala's insurance partners, Generali Malaysia and Tune Protect Malaysia, and takaful partner Takaful Ikhlas General Berhad also participated in the campaign by giving additional discounts and prizes for the campaign's lucky draw. The stackable discounts between Qoala and its partners translated to more savings.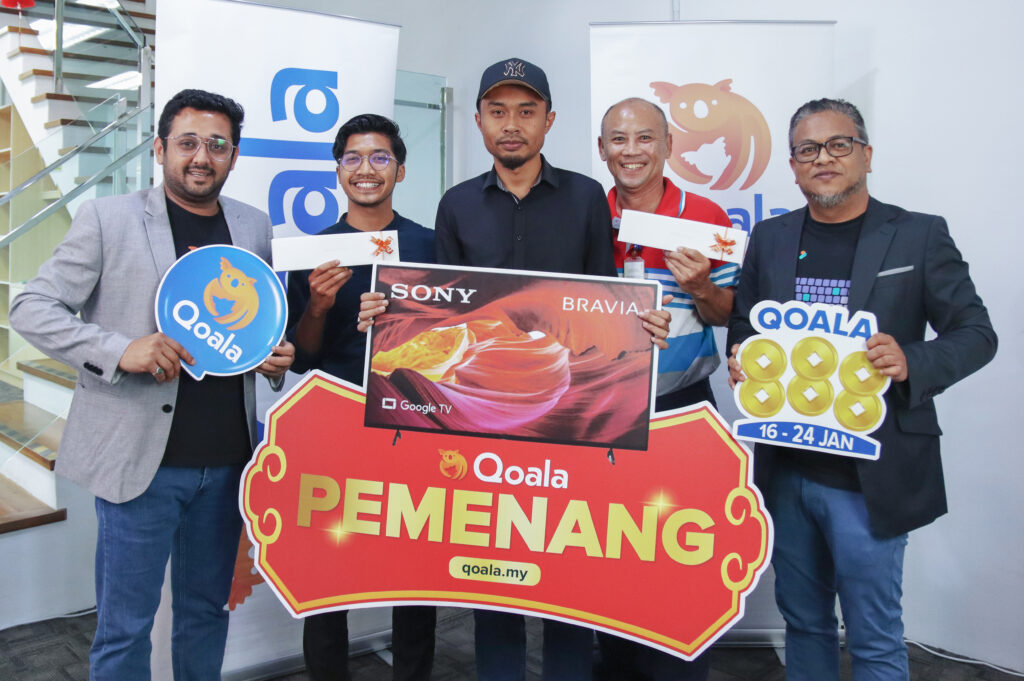 Left to right: Head of Qoala Malaysia Akash Sharma, Qoala 888 winners Iskandar Zulkarnain Bin Mahfoz, Muhammad Hanif Bin Azman and Ng Chin Lok, and Senior Vice President & Chief Agency Officer of Takaful Ikhlas General Berhad Hamzah Bin Alias
The lucky draw prizes sponsored by Takaful Ikhlas General Berhad were a hit with the grand prize being a 55-inch Sony BRAVIA X90K Google TV, a first prize of two Apple Watch Series 8 watches and a consolation prize of 20 RM88 Touch 'n Go reloads.
The grand prize winner Muhammad Hanif Bin Azman, and first prize winners Ng Chin Lok and Iskandar Zulkarnain Bin Mahfoz were congratulated by Akash Sharma, Head of Qoala Malaysia and Hamzah Bin Alias, Senior Vice President & Chief Agency Officer of Takaful Ikhlas General Berhad during the prize-giving ceremony at Qoala Malaysia's office today.
Qoala's partnership with its insurance and takaful partners has made owning insurance even more affordable, convenient and fun. As the most comprehensive insurance and takaful marketplace in Malaysia, Qoala has helped customers find the right policy that best fits their needs.
Visit
qoala.my
to compare and own insurance and takaful protection at an affordable price, today!
About Qoala
Qoala is a startup in insurance technology (insurtech) with a mission to democratise insurance through a combination of new product development supported by machine learning-based claim processes. Qoala operates in three countries; Indonesia, Malaysia, and Thailand offering various insurance and takaful protections ranging from cars, motorcycles, property, personal accidents, travel, and health that can be accessed quickly, easily and transparently through the Qoala application or website.
Media Contact
Jeremy JEESANDARAN | PR Associate, Qoala Malaysia | jeremy@qoala.my | +6016 312 7360