Who says low calorie foods isn't delicious? In this article, Qoala will provide a list of 14 low-calorie Malaysian foods that you must try!
14 Must-Try Low-Calorie Foods
It's undeniable that Malaysian food is incredibly delicious. From breakfast, lunch, afternoon snacks, dinner, to late-night meals, there's always something tasty to enjoy. Perhaps that's why many find it challenging to stick to a diet.
WARNING! Your stomach will growl and hunger pangs may arise when you see the pictures below! Let's take a look together.
1. Chicken Rice
The first low-calorie food on the list is chicken rice. If you love chicken rice, you can still enjoy this dish, but pay attention to your portion size. It's not advisable to eat too much.
Typically, a plate of chicken rice provides you with a source of carbohydrates from rice, protein from chicken, and fiber from vegetables like cucumber or salad. To make your chicken rice meal even more balanced, you can increase the fiber content in your dish.
2. Asam Laksa
In the noodle dish category, Asam Laksa stands out. Did you know that this popular Malaysian dish can also be considered healthy?
A serving of Asam Laksa is packed with protein. You don't have to worry about consuming vegetables either, as there are thinly sliced cucumbers included.
The broth is made with fresh mackerel fish and garnished with pineapple, mint leaves, and torch ginger flower. It's delicious!
3. Thosai
Do you enjoy having roti canai for breakfast at mamak stalls? Well, now you should try thosai, which is also a low-calorie food. It has fewer calories compared to roti canai.
This dish is healthy because it uses less oil and is packed with protein. Thosai is not only healthy but also delicious, especially when eaten with dhal, curry, or chutney.
4. Popia Basah
Popia is a unique dish that can be prepared in various ways. What type of popia do you like? Popia otak-otak? Fried popia?
If you want a healthy popia dish, popia basah is the best choice. Popia basah is usually eaten with its sauce, whether it's soy sauce or chili sauce. However, even without sauce, popia basah is still delicious.
5. Nasi Kerabu
Imagine a hot plate of Nasi Kerabu with boiled salted egg, fried fish or chicken, and an abundance of fresh vegetables, herbs, and kerisik (toasted grated coconut) right in front of you! It's irresistible, and you won't be able to resist finishing it all.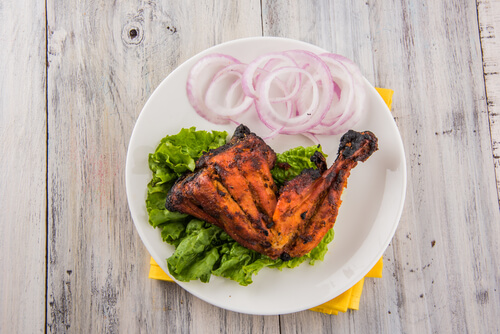 6. Tandoori Chicken
Say goodbye to fried chicken, especially your favorite fast food fried chicken. From now on, if you want to have chicken, go for tandoori chicken.
Compared to other fried chicken, tandoori chicken is cooked with less oil, so its fat content is also low. Tandoori chicken is marinated with a rich blend of spices and healthy ingredients to satisfy your taste buds.
7. Chapati
In addition to thosai, chapati is another dish you can consider as an alternative to roti canai. Chapati is also prepared with minimal oil usage and is indeed a healthy food that you can enjoy with dhal.
8. Grilled Fish
This is a popular choice for those who are on a diet. Marinated with turmeric, ginger, galangal, chili, garlic, fresh lime, and shrimp paste, the grilled fish dish will make you forget that you are on a diet!
9. Fruit Rojak
The next low-calorie food is fruit rojak. Those of you who enjoy eating pasembur can switch to fruit rojak, which has significantly lower calories and is healthier than pasembur.
Comprising various local fruits such as mango, pineapple, papaya, and more, you can truly enjoy eating fruit rojak without feeling guilty.
10. Pengat
If you're looking for a healthy dessert option, this is the best choice. Pengat is made with sweet potatoes soaked and boiled in coconut milk, sugar, and pandan leaves. Banana and taro slices are often added as well.
11. Idli
Idli is one of the best foods you can incorporate into your diet. It contains good amounts of protein, fiber, and carbohydrates.
It doesn't contain any fat as it is steamed. Instead, it is packed with fiber, protein, and carbohydrates – everything you need for a healthy meal. You can usually find idli in Indian or mamak restaurants. Idli is made from fermented rice and black lentils.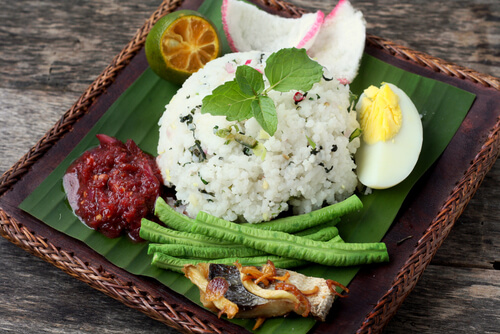 12. Nasi Ulam
Nasi ulam is similar to nasi kerabu. The similarity lies in the low-calorie content of nasi ulam. The difference is that nasi ulam is made with turmeric rice.
In a plate of nasi ulam, you will find a mixture of herbs such as basil, mint, lemongrass, and grated coconut.
13. Soup Noodles
Compared to other noodle dishes like curry mee, which is rich in coconut milk and oil, or fried noodles, you can replace them with soup noodles. Soup noodles have significantly lower calories. This dish is also very simple and, most importantly, delicious for you to enjoy.
14. Soft-Boiled Eggs
Lastly, we have soft-boiled eggs, famous as a healthy breakfast option. Although this menu is simple, it offers numerous benefits for you. Among them, it can aid muscle formation, promote weight loss, enhance memory, and more.
For breakfast, you can order soft-boiled eggs at a restaurant or make them at home. Eat them with soy sauce and white pepper, and you won't regret it!
Benefits of Consuming Low Calorie Foods
When it comes to dieting, everyone has different goals. Some want to lose weight, while others aim for a healthier lifestyle. Here are four reasons why you should consider incorporating low-calorie foods into your diet more often:
Helps Control Weight
Besides exercise, nutrition is essential in achieving weight loss goals. By consuming low-calorie foods, you can effectively reach your weight loss objectives.
For reference, women require up to 2000 calories per day to maintain their current weight, while men require approximately 2500 calories per day for weight maintenance.
Reducing calorie intake allows for more effective weight loss as your body will utilize more calories each day during daily activities.
Promotes Good Health
In addition to weight loss, your overall health will improve by adopting a low-calorie diet. A low-calorie diet involves a balanced intake of high-quality fiber, whole grains, fruits, vegetables, and lean proteins.
This ensures that your body receives sufficient nutrients required for daily activities.
Enhances Mood
Following a balanced low-calorie diet can improve your mood as well. A balanced diet typically contains essential nutrients and minerals that support normal body functions.
These minerals also ensure adequate sleep at night and provide the necessary energy for daily tasks.
An abundance of nutrients and minerals helps maintain good health and boosts the immune system.
Regulates Blood Sugar Levels
During dieting, you tend to avoid foods high in sugar or carbohydrates. This is because excessive sugar intake ultimately converts into calories and can render your diet efforts futile.
By avoiding sweet and sugary foods, you'll notice a reduction in blood sugar levels. High blood sugar levels can increase the risk of diabetes and heart disease, so it's crucial to maintain a healthy blood sugar level.
In conclusion, Malaysia offers a wide range of low-calorie food choices. It is hoped that the list provided by Qoala above will help you achieve your goal of enjoying a healthier life! If you're looking for car insurance, motorcycle insurance, or other related services, you can contact Qoala!